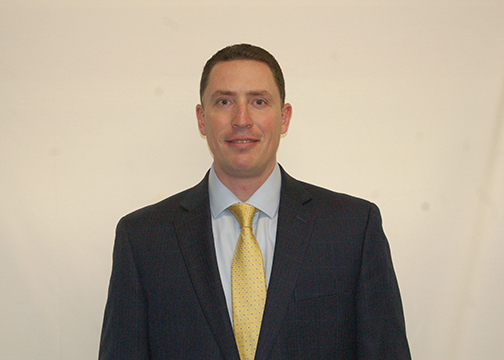 After a nationwide search, Vice President for Student Affairs Greg Sammons has announced that Alfred State has named Jason Doviak the new athletic director. Doviak, who will begin his new duties this spring, will oversee the day-to-day operations of intercollegiate athletics, physical education, and intramurals.
Sammons was impressed with his meeting with Doviak. "Jason's preparedness and attention to detail were very clear during our national search. His clearly articulated vision for the future of Alfred State athletics is generating excitement for his era to begin as a Pioneer."
College President Dr. Skip Sullivan is excited to welcome Doviak to Alfred State. "We are pleased to bring someone with such great experience and enthusiasm to our Athletic Department as we complete our NCAA journey. Jason brings a culture of winning that is just what we need at this time."
Doviak is ready to get started in his new position. "I am extremely humbled and excited to serve as the next athletic director at Alfred State. The academic programs offered coupled with the 19 varsity sports programs provide the student-athletes with a great recipe for a truly successful Division III experience. I am looking forward to successfully completing the final year of the NCAA provisional membership and ultimately achieving official NCAA Division III status."
Doviak comes to Alfred State after spending the past 12 years at Salem State (MA) University. He started at Salem as the assistant athletic director and worked his way up to associate athletic director, and senior associate director of Athletics and Recreation roles. At Salem, Doviak was in charge of the oversight of athletics including athletic training, sports information, equipment operations, scheduling, and 13 head coaches. He also was in charge of the annual budget development, developing and conducting leadership training sessions for students and coaches, and assessment and end-of-year reporting for the department.
Some of the accomplishments that he was part of at Salem State included:
· Initiated current department branding efforts including design and implementation of new athletic logos.
· Broadened the scope and effectiveness of athletic communications through implementation of a third-part website and added platforms of social media.
· Developed business plan and worked closely in designing the Gassett Fitness Center, a fitness and recreation project of over $15 million.
· Restructured department organizational chart and reallocated primary and secondary duties.
· Developed annual head coach assessment to evaluate the program, staff, and student-athletes.
· Established the Salem State National College Athlete Honor Society.
· Member of the NCAA DIII Baseball National Championship Committee.
· Served as a representative for numerous NCAA postseason contests.
· Served as an assistant baseball (pitching) coach between 2005-2011.

Prior to joining the staff at Salem State, Doviak was the athletics business administrator at the College of St. Rose (Albany, NY). He was responsible for annual budget development and creation for the athletic department including operational budget, restricted funds, and athletic aid. He also managed daily revenue and expense transactions, assisted in oversight of all fundraising activities, and assisted with coordination of department events, including alumni events, Hall of Fame, and a golf tournament.
Doviak also spent time as a marketing communications assistant at Pinnacle Systems Team Sports (Lowell, MA) and performed two internships - assistant director of Athletics intern and sports information director intern - within the Athletic Department at Siena College (Loudonville, NY).
A member of NACDA, Doviak has regularly attended the NCAA Convention and has served on numerous NCAA, MASCAC, and college committees.
Doviak has a Bachelor of Science in sport management from SUNY Cortland and a Master of Business Administration from The College of St. Rose. While at Cortland, Doviak was a member of the baseball team, a SUNYAC All-Academic team member, and a member of the national honor society, Phi Kappa Phi.
Doviak and his wife Leanne are the proud parents of two children, Jordyn and Zachary. "I would like to thank Dr. Skip Sullivan and Greg Sammons along with the search committee for this outstanding opportunity. I am honored to have been selected for this position and eager to begin working with the outstanding coaches, staff, student-athletes, and community members at Alfred State. This is a very exciting time for my family, and we are thrilled to begin this next chapter of our lives as Pioneers."