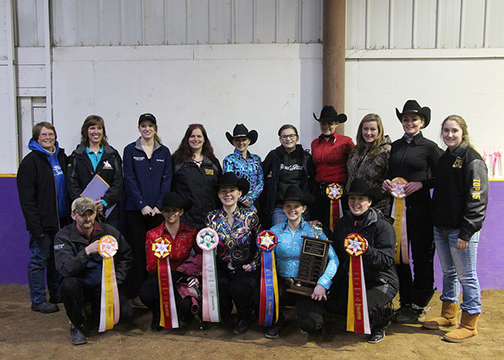 Alfred State riders showcased their hard work and talent against the best riders from within the region Feb. 26 during the Regional Western Equestrian show held at the Bromeley-Daggett Equestrian Center in Alfred Station.
Competing in addition to Alfred State were Alfred University, Rochester Institute of Technology, Cornell University, and The College at Brockport. Ten Alfred State riders qualified to show in this competitive and intense venue, and only the top two riders in each division move on to semifinals.
Team captain Haleigh Hurd (accounting, Greenwood) took second in Open Reining, while Hannah Brizzee (agricultural business, Canisteo) came in second in Novice Horsemanship. Hannah Schaus (culinary arts: baking, production and management, Arcade) earned first place in Beginner Horsemanship, and Amber Laibe (veterinary technology, Vestal) took second in Beginner Horsemanship. All four of these riders move onto the semifinals at West Texas A&M University in Canyon, TX on March 25-26.
Four Alfred State riders also competed at regionals in the Intermediate division, which contained three cuts, with top riders then being called back for a final class. Competing were Rachel Von Hagn (nursing, Bath), who took third place; Morgan Hynes (veterinary technology, Retsof), who came in sixth place; Rachel McNeal (radiologic technology, Elmira); and Jessica Bongard (architecture, Webster). The Beginner Horsemanship division included Erika Sutherland (veterinary technology, Dundee) who earned third place, and John Thompson (human services, Hornell), who took fourth place.
SUNY Distinguished Teaching Professor Victoria Bolton, who has helped guide the team since its inception, said, "All of the riders performed very well and were commendable representatives of themselves, their team, and Alfred State."