Alfred State once again welcomed a representative from Gov. Andrew Cuomo's office to provide an update on the current condition of the State of New York and to outline the governor's plan for the future.
Eric Hesse, director of the New York State Division of Veterans Affairs, delivered the governor's State of the State address on campus recently to a large group of more than 200 students, faculty, staff, and local community members.
Hesse mentioned that under the Cuomo administration, statewide unemployment is down from 8.4 percent six years ago to 4.9 percent today, spending increases have been limited to under 2 percent a year since 2011, construction jobs have increased 22.4 percent from 2010 to 2015, and that tax rates are down for every New Yorker. While progress has been made, Hesse said, the governor recognizes there is more to do, particularly in lifting up the middle class and working class who feel left out of the economic recovery.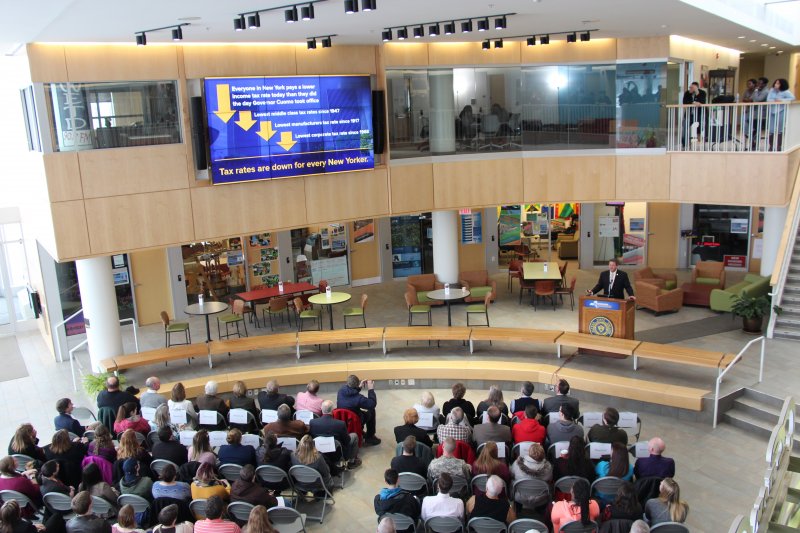 At the same time, he said, there is a recent and powerful belief that America's diversity, openness, and acceptance is in conflict with the success of America's middle-class working families. As a result, the state, Hesse said, will take two paths forward: advancing the middle class and protecting progressive values.
The Middle Class Recovery Act, he said, will emphasize jobs and infrastructure, access to education, and lowering taxes.
One step ahead includes the governor's recent proposal that calls for investing $163 million to provide free tuition at all SUNY and CUNY two- and four-year colleges for students whose families earn $125,000 a year or less. He noted that in 2015, the average student loan debt in New York was $29,320 and that 85 percent of all families in western New York would qualify for tuition-free public college under the governor's proposed plan.
Additionally, Hesse also touched upon the necessary continued growth of the Buffalo Billion strategy, to create thousands of jobs and spur billions in new investment and economic activity in western New York over the next several years. Among the 20 proposals Hesse listed, one involves replicating the successful Downtown Revitalization Initiative to transform suburban downtowns across the region.
In this initiative, the governor is looking to invest $100 million in revitalizing 10 more downtowns. Among the eligible downtowns are three from Allegany County: Alfred, Angelica, and Wellsville.
Also looking ahead, Hesse mentioned several other proposals, including no tax increases, making ridesharing legal across New York State, investing $100 billion statewide in infrastructure, a six-point plan to combat drug abuse, cutting middle-class taxes for 6 million taxpayers, and raising the age of criminal responsibility.
Watch video of the State of the State event at Alfred State.