Alfred State celebrated the opening of its new Sustainable Advanced Manufacturing Center (SAMC) recently with a ribbon-cutting ceremony. The $5 million, 16,000-square-foot facility will help the college continue to produce more job-ready graduates for manufacturers who are eager to find well-trained workers.
"Alfred State's new Sustainable Advanced Manufacturing Center will keep the school at the cutting edge of technology and ensure our manufacturers have access to a pipeline of the educated and well-trained employees they need to succeed," said Gov. Andrew M. Cuomo. "New York is committed to developing a high-tech workforce to help grow the 21st century economy and that begins with making these types of investments to bolster the capabilities of our higher education institutes."
Construction of SAMC is supported by the $4.5 million SUNY 2020 "Retooling the Southern Tier" project, as well as a grant of up to $500,000 for new equipment and machinery from the Western New York Regional Economic Development Council.
Lt. Gov. Kathy Hochul said, "Alfred State is at the heart of the hi-tech revolution in this region, and this center is a symbol of what Gov. Cuomo is achieving all across the state. We are positioning a new generation of workers for success in the area of advanced manufacturing even as we promote and develop the new methods necessary to achieve the right balance between growing our economy and preserving our environment."
"This is one of many historic moments for Alfred State as it builds on its reputation of truly preparing students for the future job demands in the western region," stated SUNY Chancellor Nancy L. Zimpher. "My congratulations to President Sullivan and the entire Alfred State community for realizing their vision for the Sustainable Advanced Manufacturing Center."
Within the SAMC, which is located on Alfred State's School of Applied Technology campus in Wellsville, welding technology and machine tool technology students are training for in-demand jobs while learning state-of-the-art sustainable practices in advanced manufacturing through more efficient processes.
"It is an exciting time for our students, the community, and the business and industry partners that employ our graduates," stated Dr. Skip Sullivan, president of Alfred State. "I personally appreciate the investment in Alfred State and the investment in the next generation of students who will meet workforce needs in the future. This state-of-the-art facility is a gem that allows our experienced and quality faculty to prepare our students to 'hit the ground running'."
The new building includes classrooms, a computer lab, a welding booth shop, a welding fabrication shop, material handling and preparation space, a CNC machine shop, and metrology and inspection space. Other uses for the facility include prototyping and assisting manufacturers across western New York in the development of new products and systems.
Dr. Craig Clark, vice president of Economic Development and former dean of the Wellsville campus, welcomed elected leaders, students, faculty, staff, and community members to the ribbon-cutting ceremony. Sullivan and College Council Chair Patricia K. Fogarty also offered their remarks, before a number of elected officials did the same. Leaders present at the ceremony included Lt. Gov. Kathy Hochul, State Sen. Catharine Young, R-Olean; State Assemblyman Joseph Giglio, R,C,I-Gowanda; and Allegany County Board of Legislators Chair Curt Crandall, R-Belfast.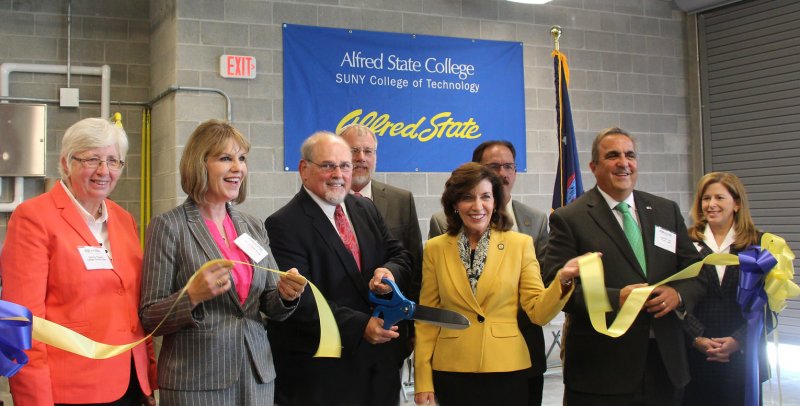 "Alfred State's Wellsville campus offers students of all ages a cutting-edge environment to learn an array of skilled trades," Young stated. "With the addition of the new Sustainable Advanced Manufacturing Center, students will have the tools necessary to be at the forefront of advanced manufacturing fields and they will be well-prepared for careers that offer good-paying jobs. The SAMC will be a valuable asset for Alfred State and Allegany County, and I was proud to support the $5 million in funding for the facility in the state budget. I applaud Gov. Cuomo and SUNY for making this investment in our community because it will be a tremendous resource as we continue to create jobs and improve everyone's quality of life."
Giglio said, "I am pleased to congratulate Alfred State on the opening of its Sustainable Advanced Manufacturing Center, which will train students for future careers with local manufacturers. The need for a skilled workforce is frequently cited as crucial to developing and supporting manufacturing facilities here in the Southern Tier of western New York. This new facility will help to meet that need and to build the local economy through the creation of new products and technologies."
"Allegany County is proud of Alfred State and its School of Applied Technology at the Wellsville campus," added Crandall. "It has a rich history of training a skilled workforce for this region and beyond. Today's ceremony only reinforces that pride and elevates Alfred State graduates to even higher levels of expertise."
Speaking to the design and construction of the facility were Steven D. Fernaays, architect and senior associate of SWBR Architects, and David Vaughn, vice president of LeChase Construction. Praise for the new facility and the well-trained workers it will produce is coming from across the state.
"Aligning education and skills training to the needs of local employers is a must in order to advance our economy," added Empire State Development President, CEO, and Commissioner Howard Zemsky. "And Alfred State's new SAMC understands the importance of coordinating educational opportunities and workforce needs so that their students will graduate prepared for successful careers in advanced manufacturing."
Western New York Regional Economic Development Council Co-Chair and SolEpoxy President Jeff Belt said, "Alfred State is a leading college of technology in our region and a great partner to the WNYREDC as we strive to prepare our youth for in-demand and growing industry sectors such as advanced manufacturing. SAMC will be a real asset for area manufacturers by providing the education and training for employment opportunities close to home. One of the WNYREDC's core strategies is preparing our workforce and Alfred State's new SAMC fits that bill perfectly."
The SAMC is the first building on the Wellsville campus funded by the State of New York. The Educational Foundation of Alfred, Inc., a private foundation whose mission is to improve the Alfred State community through support of educational programs, owns the property and is leasing the site to SUNY for 30 years. Educational Foundation of Alfred, Inc. President Julie Hart, and School of Applied Technology Dean Ana McClanahan, joined ceremony participants for the ribbon cutting.
Satish K. Tripathi, Western New York Regional Economic Development Council co-chair and University at Buffalo president said, "There is a high demand for advanced manufacturing graduates in our region so Alfred State's new center will be a benefit for the area manufacturers who are looking to fill positions with talented, career-ready individuals. I am proud that the WNYREDC supported this important project."
The ceremony also kicked off a yearlong celebration of the 50th anniversary for the Wellsville campus. Several other celebratory events have been planned from mid-November through the end of April.