Not long after the sound of pomp and circumstance rings through the halls of high school graduation ceremonies, some of those same students and parents are packing the car and heading to Alfred State for orientation.
While the number of high school graduates in the region has been declining, thanks to recruitment efforts that are attracting students from an ever-increasing radius, Alfred State is experiencing record numbers at orientation. In July, a total of 1,272 students, parents, and siblings came for orientation, including one session that peaked at 268 student participants, which is larger than any single orientation session in decades.
"Many of the students and parents come here focused on our school's track record for graduates going on to successful careers, with 99 percent either employed or choosing to continue their education," said Deborah Goodrich, associate vice president for Enrollment Management. "We have a wide variety of in-demand majors from which to choose, and at orientation our goal is to ensure that these families are on the right track from day one to make their college years pay off for the future."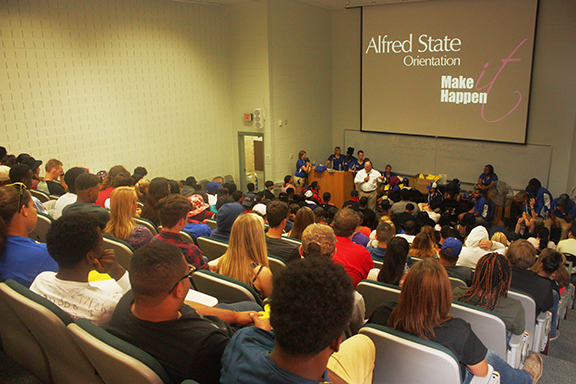 Through a series of six sessions, with many participants spending the night and some arriving by bus from New York City, they all converge on Alfred State's campus. Some parents arrive apprehensive about their child leaving home. Others may come to Alfred with a spring in their step as orientation marks the beginning of an "empty nest" with no children left at home. But all of those parents and students at Alfred State's orientation come armed with questions and lots of them.
"I'm not sure which group has more questions, the parents or students," said Goodrich. "The start of college is life-changing for both. And we have an incredible team assembled to answer all questions, so that when school begins in late August, the transition will be easier. In particular, our student orientation leaders help inform those who are not familiar with Alfred State and perhaps unfamiliar with the area, to make the campus comfortable, friendly, and welcoming to our diverse incoming class."
The orientation leaders are also a diverse group of 14 students who arrived on campus for their first time not so long ago. These students are athletes, Greeks, club members, and student government representatives. Orientation leaders are selected to assist the transition onto campus, stress the importance of thoughtful decisions for academic choices, and encourage students to engage in activities, clubs, and passions. Alfred State offers more than 100 clubs and organizations to match a wide variety of interests.
"Of course studying and achieving your degree is paramount for launching your career," said Goodrich. "At Alfred State, we also encourage students to develop new interests, leadership skills, and lifelong friendships outside of the classroom. Those attending orientation are often amazed by all that is available to do in our small college town."