Story Courtesy of Wellsville Daily Reporter, Kathryn Ross Reporting
Video available for the Alfred State balloon ride
The 41st annual Great Wellsville Balloon Rally got off to a slow start, but, for one woman, it was worth the wait.
Dining with the pilots and crew before the scheduled liftoff Friday night, Eleanor Howe of Hallsport was in great spirits. She's been waiting well over 60 years to fly in a hot air balloon. The senior citizen is 90 years old and with her flight this year in the Night Fury balloon flown by Eric Eaton, she will have completed one of her bucket list items.
"I've always wanted to do this. Robert (her husband) was a pilot and flew from the old (Bolivar Road field) airport. I've wanted to fly in a hot air balloon since then," she said.
Even though windy conditions canceled her flight Friday night, she said she was ready to get up for Saturday's morning liftoff.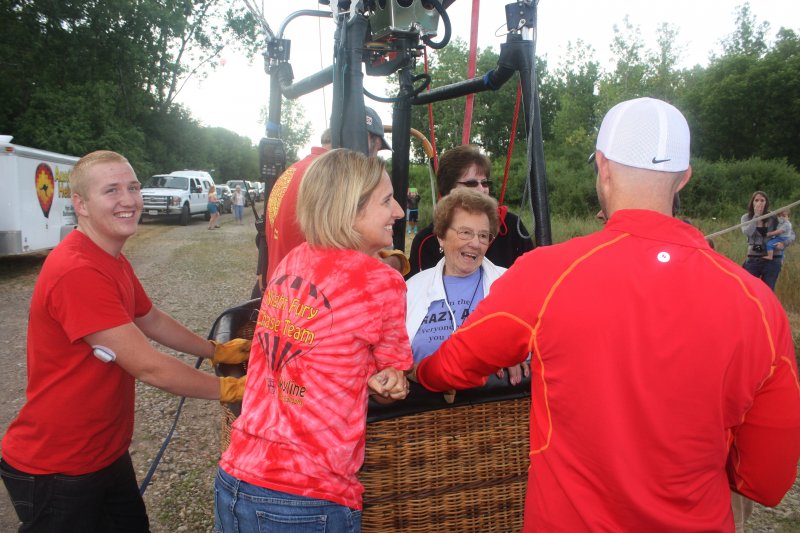 She explained that the whole thing came about when her niece, Brenda Billings, who works in the dorms at Alfred State, purchased a raffle ticket the college was offering for two balloon rides. She won.
"After I won I learned from family members that Aunt Eleanor wanted to fly in a balloon. Family members said that it was on her 'bucket list,' said Billings. "We had a family discussion and I decided to ask her."It didn't take Eleanor long to say yes.
Howe said, "They never want to to ask me if I want to do something, if they don't want me to do it."
For Billings, too, the idea of accompanying her aunt on a balloon ride was exciting. But, the balloon flight wouldn't have been Howe's first time aloft in the open air. Howe said her husband owned a Stearman bi-plane in the late '40s and '50s with Wellsville pilots Mote Tarantine and Ralph Searle and that Robert had been a pilot during the war.
Eleanor Howe recalled, "The day we went up in that plane, I almost froze to death. It was a day like today, hot, but as I got in that plane, Mote came up to me carrying this fur-lined hat and a big pair of boots. He put the boots on the floor of the plane and I stuck my feet in them. But it sure was cold when we got up there. I don't know if it will be that cold in the balloon. It probably depends upon how high we go."
Howe said she was looking forward to the balloon ride, seeing the people on the ground and being up in the air.
Eleanor Howe was born in Hallsport on March 20, 1926. During World War II, she worked at the Stevens Machine Shop in Wellsville, making parts for airplanes. Afterward, she went to work on the switchboard at Worthington (Dresser-Rand). She and Robert Howe were both involved in the Blue Devils Marching Band. They were married 47 years and raised two children, Douglas Howe and Delores (Dee) Specker.
Today, Howe enjoys sitting on her porch and watching the people drive by after she has finished her housework and flower gardening. She said she also enjoys spending time with her "wonderful family."
After her balloon flight, Howe said she is looking forward to crossing another item off her bucket list — para-sailing.