Incoming students are catching more than just a glimpse of college life during Alfred State's summer orientation, with the new Pokemon Go mobile game they are venturing across campus and making new friends along the way.
"As a college of technology, our first inclination is to look for ways to utilize technology for a benefit," said Stephanie Hoyer, digital media coordinator. "When students are using Pokémon Go we noticed that they are going out and exploring the campus, finding where things are located, and sharing experiences with their new found friends. There are positive attributes to the game that can be embraced."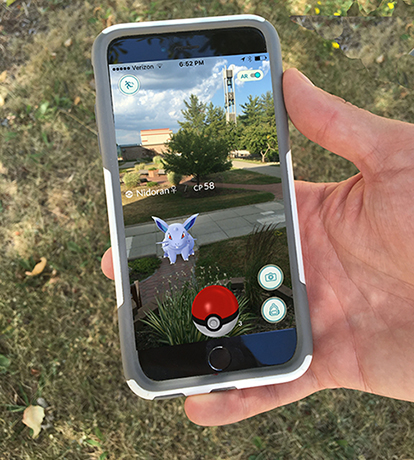 Students designated as Orientation Leaders at Alfred State are also trained regarding the dos and don'ts on how to use Pokémon Go. Players are cautioned to be aware of their surroundings and to stay safe while not placing themselves in harm's way. Students who choose to play are encouraged to make the most of the experience by learning their way around campus and sharing their experience while interacting with fellow students.
"It's our job at orientation to guide students to become successfully engaged and productive members of the campus community," said Mallory Morehouse, coordinator of orientation. "We want to guide new students to keep their academic success a priority. We also understand the need for students to become engaged outside of class, to pursue their personal interests and passions while making new friends. Pokémon Go can be an incredibly social experience since it encourages gamers to go outside, explore and even enjoy some friendly competition."
The Bell Tower at the center of the Alfred campus serves as one Poke Stop, where players can collect free Pokeballs, incense, potions, revives, and eggs. Other nearby stops include the Alfred Post Office, the Box of Books Library, and the Alfred Fire Department.
Whether playing solo or in groups, students have the option to join one of three color-coded teams, known locally as Alfred State BLUE, Pioneer GOLD, and Team Alf-RED. A Pokemon gym is located at the entrance to the Hinkle Memorial Library, where players often congregate for competitions. Another gym is located at the Theta Gamma House on Main Street in Alfred.
After a July 5 launch, the popularity of the game has grown rapidly across the country and by the first orientation session on July 10 a great number of students had downloaded the free app and were playing Pokemon Go as they explored the campus. The college's 2016 summer orientation includes a number of overnight and daytime sessions from July 10-29. All full-time, new, and transfer students entering Alfred State in the fall of 2016 are required to attend a session.