Following its initial success a year ago, Alfred State's Pioneers Drive for the Development Fund golf tournament was again a "hole-in-one" this year, raising $27,000 and including 31 teams.
Held June 17 at the Twin Hickory Golf Club in Hornell, the second annual tournament began with a 10 a.m. shotgun start and featured a Captain and Crew format. The members of the winning team were Steve Smith, Charise Nankivell, Mikey Smith, and Kevin Mazanec.
Trish Haggerty, director of Annual Giving at Alfred State, noted that the tournament was held on a picturesque day for golf, and that teams enjoyed hours of fun, competition, and camaraderie, followed by a dinner and awards banquet held at the Main Place in Hornell.
"This year's tournament was a huge success," Haggerty said. "Thanks to the generosity of our sponsors and teams, we raised more than double what we raised last year."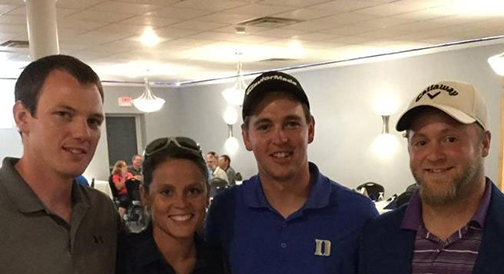 The top three teams took home $500, $300, and $200, respectively. In addition, a Weber gas grill was awarded to the drive closest to the pin on hole 4, and other prizes included drivers, putters, cash, a 50/50 drawing, and more than 60 door prizes.
All proceeds from the tournament benefited the Alfred State Development Fund, Inc., which raises funds for the college, primarily for student scholarships, new technology, student athletes, and many other needs. Numerous organizations, businesses, and individuals supported the event, either through volunteering, sponsorship, or donating prizes.
Event sponsors ($2,500) included Auxiliary Campus Enterprises Services, Inc.; Laborer's Local #621; Mach Architecture, PC; and Pathfinder Engineers and Architects. Eagle Sponsors ($1,000) were Alesco Advisors, LLC; Kenworth Northeast Group; Liberty Mutual; Otis Eastern; and West Herr Automotive.