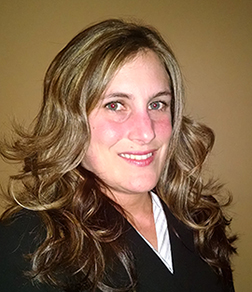 Alfred State is pleased to announce that Danielle Green, an instructor and chair of the Business Department, has been named an Open SUNY Online Teaching Ambassador.
Green was nominated by Alfred State as an exemplary online educator, who is both enthusiastic and effective in online teaching, and who can be a positive and strong advocate for online teaching in the SUNY community.
"I congratulate Danielle on her achievement and thank her for all of her hard work in being an online teaching advocate for our college," said Alfred State President Dr. Skip Sullivan.
Green teaches both lower- and upper-level court reporting classes, including theory, speed building, and procedures for reporters and captioners. Court and realtime reporting (AAS) and court reporting and captioning (certificate) are two of Alfred State's various online academic offerings.
Speaking about its benefits, Green noted that online learning provides flexibility to adult learners, career-changers, those returning to school after a long absence, and all other populations not sufficiently served by the traditional college environment.
Additionally, she said, it provides those not comfortable in the traditional classroom an avenue to exchange thoughts and ideas with others in a safe environment and to showcase their talents which they may have been hesitant or anxious about doing in an on-ground program.
"Our primary goal for online education is to reach a wider cross section of learners and to service those who would not have normally considered Alfred State for their education," Green said. "Distance learning is paramount to place-bound students who need to hone their current skills to gain promotions in their career or be overall marketable in the workforce. Online teaching can only occur when the learning materials are delivered in an accessible, consistent, and meaningful manner."
Green added that online instructors must be passionate in their field and the educational delivery mode, and consistently seek out new knowledge in relation to online learning to continuously improve how education is delivered around the globe.