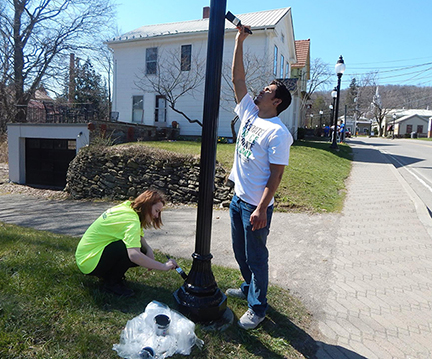 Joining with volunteers throughout the US and beyond in celebration of National Volunteer Week and Global Youth Service Day, 220 Alfred State students and students from Alfred University took part in Spring Into Action Day of Service on Saturday, April 16.
The students participated in 25 projects at various locations such as churches, libraries, and service organizations in several communities including Alfred, Alfred Station, Almond, and Wellsville. Examples of service included clearing hiking trails at Phillips Creek State Forest, preparing Little League fields for the season, painting light posts and fire hydrants in the village of Alfred, and preparing and serving food at Wellsville Community Kitchen.
Barbara Pierce, a student activities secretary, who helped found the Alfred Community Garden and who volunteered and coordinated various service projects, said, "It's always a pleasure to have students participate in the days of service with their energy and enthusiasm. The rewarding feeling for the Alfred Community Garden volunteers and the students cannot be measured. Some of the Mu Theta fraternity brothers and members of the Caribbean Student Association request volunteering there every year."
National Volunteer Week, which ran from April 10-16 this year, is "about inspiring, recognizing, and encouraging people to seek out imaginative ways to engage in their communities, according to www.pointsoflight.org. Global Youth Service Day, as stated on its website, http://gysd.org/, is "the largest service event in the world and the only one dedicated to the contributions that children and youth make 365 days of the year."
In photo: Alfred State students Juliana Krajewski, technology management, Buffalo, left, and Abraham Kalamadeen, motorsports technology, Brooklyn, paint a Victorian street light pole on Main Street in Alfred.