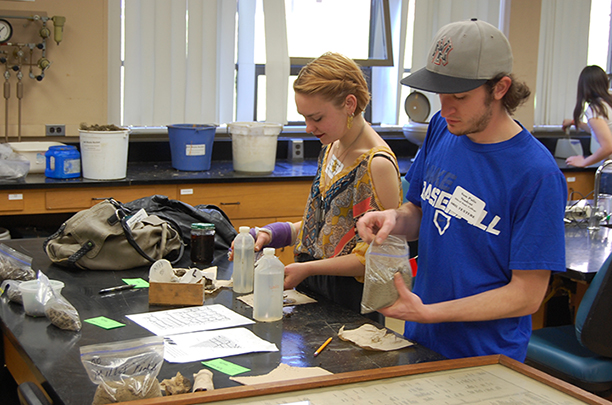 Students in the soils class at Alfred State will hold a pH clinic for the community from 2-6 p.m. Friday, April 22 in room 103 of the Agriculture Science Building on the Alfred campus.
Community members are encouraged to bring up to four soil samples (sandwich bag-sized) for pH measurement and texture determination (approximate amount of sand, silt, and clay). Student and faculty advisers will be on-hand to assist community members in interpreting their results for specific garden or landscaping needs.
Jessica Hutchison, lecturer in the Agriculture and Veterinary Technology Department, said testing soil pH is important because pH values outside a plant's preferred range can limit growth and productivity.
"Bringing a sample to the soil pH clinic is a fun, free way to get information about your soil and interact with students who are excited about putting their knowledge to the test," she said.
If unable to attend the event, community members are encouraged to drop off or mail samples to Jessica Hutchison, 123B Agriculture Building, Agriculture and Veterinary Technology Department, 10 Upper College Drive, Alfred, NY 14802. If mailing or dropping off samples, please ensure that samples arrive prior to the day of the event.
Contact Hutchison at HutchiJM@alfredstate.edu or 607-587-3616 regarding any questions.
Pictured in photo: Cassandra Bull, left, an Alfred University student from Saratoga Springs who is studying agricultural technology at Alfred State, and Sam Pulis, an agricultural technology major from Hector, analyze soil samples during last year's soil pH clinic at Alfred State.