With more than 65 in-demand majors and a hands-on approach to learning, Alfred State is experiencing a strong increase in the number of students wanting to enroll for the fall 2016 semester. The number of applications is up 17 percent over the same time last year.
As April begins, Alfred State has received 5,865 applications and the 17 percent hike over 2015 is the second highest percentage increase among all 26 state-operated SUNY campuses. Only once in the past 23 years has a recruitment effort at Alfred State resulted in more applications. The number of accepted students has also spiked. Acceptance letters are still being processed, but already this year's number has only been surpassed once in the past 18 years.
"We are extremely pleased to see this growing interest and heightened enthusiasm for our college from prospective students," said Deborah Goodrich, associate vice president for Enrollment Management. "While the standards for admission have increased over the years, so too have the number of applicants. The interest from high school seniors this year has broken all Alfred State records with more than 46,000 inquiries."
Alfred State is also an affordable option for students, having enhanced the number of scholarships offered by more than 14 percent since last year, up to 524 in 2016 from 458 in 2015.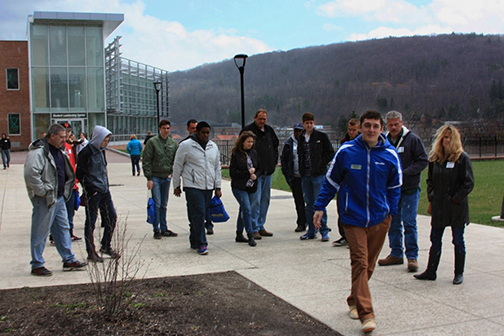 Helping students prepare for future careers is a focus at Alfred State, and the college also makes sure that incoming students can acclimate to life on campus. On Saturday, April 2, Alfred State welcomed approximately 200 future Pioneers and their families for Accepted Student Day.
During the event, attendees were able to participate in a variety of programs designed to provide in-depth information related to their major and to learn about student life. Representatives from Admissions, Athletics, Financial Aid, Residential Life, the Student Success Center, and some of the 100 student clubs were available to answer questions one-on-one. Campus tours gave families a sense of what it's like to live, eat, study, and play at Alfred State while visiting classrooms, labs, dining facilities, fitness centers, and residence halls.
Additionally, the college is gearing up to welcome even more visitors during an Open House on April 17 for prospective students and their families, beginning at 8:30 a.m. in the Orvis Activities Center on the Alfred campus. Attendees are invited to participate in a variety of programs, both formal and informal, designed to provide flexibility in visiting any area of interest to the student.
Similar to Accepted Student Day, a wide variety of representatives will also be available for the Open House, as will campus tours, academic department tours and presentations on financial aid and campus life. For additional information, contact the Admissions Office at 1-800-4-ALFRED or 607-587-4215.
"We encourage all students interested in our college to attend an Open House or to arrange a tour and see for themselves all of the wonderful things that Alfred State has to offer," said Goodrich.
In photo above: Student ambassadors lead future Pioneers and their families on a campus tour.