SUNY Distinguished Teaching Professor and longtime member of Alfred State's Business Department Jim Grillo met March 24 with members of the college's Honors Program to share some of his experiences in the Vietnam War.
Grillo, a sergeant in the US Marine Corps, served in Vietnam 1967-68 as a Recon Marine. Originally a machine gunner, he became team leader when the previous leader was killed.
Wounded three times, Grillo eventually returned to the United States and spent nine months recovering in a hospital. Asked by a student what it was that kept him going in his time in battle, a visibly moved Grillo replied, "You do it for your buddies. Your life is in their hands, and their lives are in your hands. Without 100 percent trust, you're all in big trouble."
When a recent survey of Vietnam War vets revealed that nearly 75 percent of them would enlist and "do it all again in a heartbeat," Grillo was quick to include himself in that number. 2016 marks the 50th anniversary of US involvement in the Vietnam War. Every state plans ceremonies commemorating that event and honoring the 2.7 million men and women who served and remembering the more than 57,000 men and women who gave their lives in that war.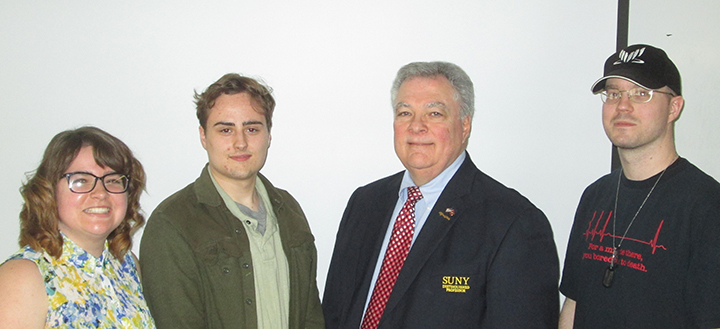 From left to right are Kristen Williams, liberal arts and sciences: humanities, Hornell; Brian Kelly, information technology: network administration, Allegany; SUNY Distinguished Teaching Professor James Grillo; and Matthew Porterfield, electrical engineering technology, Hamburg.