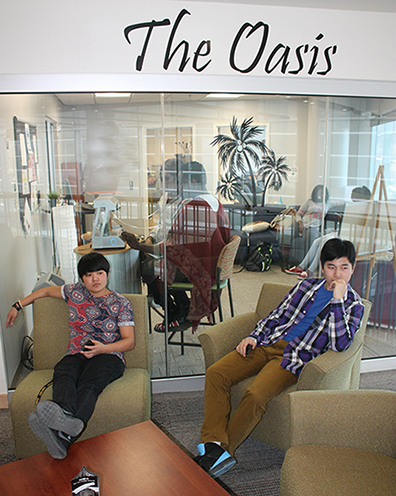 The Health and Wellness Services Department has recently been named a recipient of a Rochester Business Journal Health Care Achievement Award in the Innovation Category.
The journal created the awards in an effort to recognize excellence, promote innovation, and honor the efforts of organizations and individuals making a significant impact on the quality of health care in the area. Awards categories include: Behavioral Health, Health Care Staff, Innovation, Management, Nurse, Physician, Senior Care, and Volunteer.
Honorees will receive their awards during a luncheon and ceremony that will take place March 22 at the Joseph A. Floreano Rochester Riverside Convention Center. They will also be profiled in a special Rochester Business Journal supplement, which will be published this month.
Specifically, the Health and Wellness Services Department was recognized for an exciting new space in the Student Leadership Center, known as "The Oasis." This area includes an inviting lounge where weekly events are held, and a MindSpa equipped with massage chairs, aromatherapy, an extensive audio library, an oxygen bar, and more. All services offered at The Oasis are free for students.
"We at Health and Wellness Services are very excited to see that our hard work paid off," Counselor Erica Alger said of the department receiving the award. "This recognition just motivates us to continue to explore innovative resources to offer our students as they manage college and life stressors. We created The Oasis for students to utilize to combat stress, and it has taken off. We have plans to expand these services by the fall of 2016."