Members of the Honors Program met at the college greenhouse Feb. 24 with Sandy Dennison, marketing director of Auxiliary Campus Enterprises and Services, Inc., and Emily Rhoades, AmeriCorps VISTA representative, to learn about food production and growing practices in Western New York.
Dennison, a past Spirit of Service awardee and founding member of the Alfred Community Garden, told students, "Rural Western New York has so much land, yet many people are unfamiliar with growing and harvesting their own food, too often relying on expensive, highly processed food with low nutritive value."
She also presented various methods of growing food available for people with limited space or experience in gardening. Rhoades then distributed organic seeds and soil and allotted each student space in the greenhouse for planting. Students were encouraged to take their plants and their knowledge of modern "victory garden" possibilities back to their homes at the semester's end.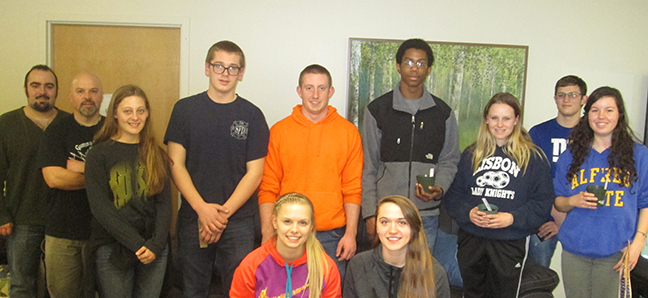 In photo: Honors Program members from left to right, are, front row: Sarah Wojtowicz (interdisciplinary studies, Ellicottville), and Nicole Raymond (forensic science technology, Hinsdale), and back row: Austin Harvey (computer information systems, Cameron), Anthony Harvey (air conditioning and heating technology, Cameron), Jordan Seltzer (business administration, West Valley), Jacob Fassett (drafting/CAD, Cooperstown), Cole Smith (electrical construction and maintenance electrician, Collins), Justin King (electrical construction and maintenance electrician, Uniondale), Courtney Green (human services, Lisbon), Grant Tinker (electrical engineering technology, McGraw), and Molly Kase (architecture, Rochester).