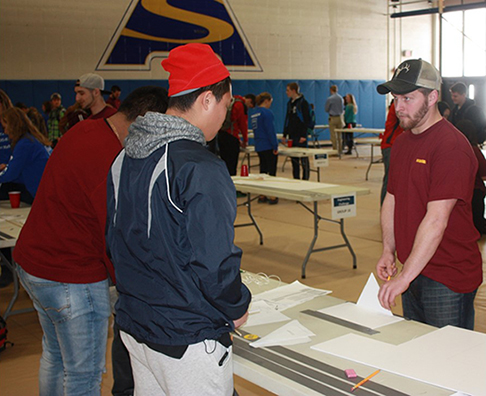 More than 100 students from four area high school districts visited Alfred State Friday, Feb. 26 to explore engineering and technical careers as part of National Engineers Week.
Founded by the National Society of Professional Engineers in 1951, the week is dedicated to ensuring a diverse and well-educated future engineering workforce by increasing understanding of and interest in engineering and technology careers, according to www.nspe.org.
Throughout the week, 60 Alfred State students in the School of Architecture, Management, and Engineering Technology showcased the many great projects and activities they engage in at the college through various clubs and organizations. Participating Alfred State groups included American Society of Mechanical Engineers, Associated General Contractors, Architecture Club, Robotics Club, Alfred State Information Security Team, and SAE (formerly known as Society of Automotive Engineers).
School districts that attended the Feb. 26 event were from Arkport, Hornell, Corning Christian Academy, and Watkins Glen. After learning about the clubs that were present, students then took part in a design challenge in which they were tasked with designing and building a crane in 45 minutes to see how heavy a load it could lift, using the materials at hand.
The winners of the challenge were as follows:
First place – Kassidy Kramer, Nicole Katsur, Olivia Chatain (all from Arkport), and Claire McManus (Watkins Glen).
Second place – Taryn Parker and Ty Rawleigh (both from Hornell) and Jordan Rappleye and Brandon Barber (both from Watkins Glen).
Third place - Brendan Deebs (Hornell), Bernadette Osborne, Clara Chedzoy (both from Watkins Glen), and Louis Payne (Arkport).
Dr. John Williams, dean of the Alfred State School of Architecture, Management, and Engineering Technology, said National Engineers Week is about sharing enthusiasm for engineering, and promoting the many exciting career opportunities that exist.
"A large function is to help students better understand the required academic preparation and professional responsibilities during practice," Williams said. "This is a phenomenal experience for high school students. The Alfred State student clubs transform the gym to showcase their programs and projects and have many interactive displays and presentations to engage our visitors. The peer-to-peer (student-to-student) contact occurs easily and is very effective."
Alex Surdyk, an electrical engineering technology major from Hamburg, said, "Engineering is one of those things that has no partisan lines. The love and passion for science is inclusive to everybody who participates. It has no bias and aims to advance the quality of life for everybody, which is why this week is so important."
He added, "These young people are the next generation of thinkers and doers; to see the excitement in their faces when they 'feel' what engineering offers gives me all the hope I need. In a world of division, these students are uniting under science."
In photo: Zachary Herrington, a mechanical engineering technology major from Horseheads, assists Hornell High School students with a National Engineers Week design challenge.