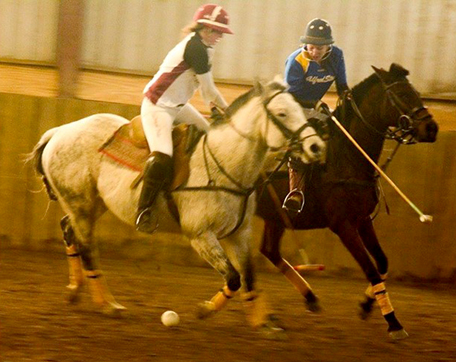 In only its second season, the Alfred State Polo Club is already making a name for itself, having won nine out of its 10 contests, including two victories over Harvard in early February.
Playing home matches at 3150 Chandler Road in Piffard, the Alfred State club defeated the Harvard group Feb. 6 by a score of 27-9, and again on Feb. 7 by a 24-7 margin. Alfred State has also won against Skidmore, the Cornell IS team, University of Massachusetts, Yale, and the University of Guelph.
Currently ranked third in the Northeast, Alfred State Polo officially formed in January 2015 after receiving approval from the college and the United States Polo Association. A major highlight for the club last season was its first-place finish at the Northeastern Intercollegiate Women's Preliminary Tournament, held Feb. 27 to March 1 at Yale.
This year's roster consists of five players, Anna Campbell, technology management, Geneseo; Kasandra Wohlschlegel, surveying and geomatics engineering technology, Lima; Abigail Campbell, construction management engineering technology, Geneseo; Hannah Manns, veterinary technology, Cortland; and Gwendolyn Shear, heavy equipment operations, Killawog.
Coaches are Terry Mehlenbacher and Robert Donnan, and the club's adviser is SUNY Distinguished Teaching Professor in the Department of Agriculture and Veterinary Technology Victoria Bolton. Deanna Wohlschlegel, Kasandra's mother, has been instrumental in organizing and scheduling matches and travel, designing and ordering team polo shirts and jackets, and she also serves as team score-keeper and photographer.
Bolton noted of the club, "This team is amazing. The freshmen have really stepped up their play and skill levels. Our coaches are amazing, as well. They volunteer their time. The use of the barn and horses are donated to the team, and the horses love playing polo as much as their riders do."
Alfred State Polo will wrap up its season during the Northeastern Intercollegiate Regional at Cornell March 18-20.
Pictured is Alfred State Polo member Gwendolyn Shear, heavy equipment operations, Killawog, right, competing against Harvard earlier this month.