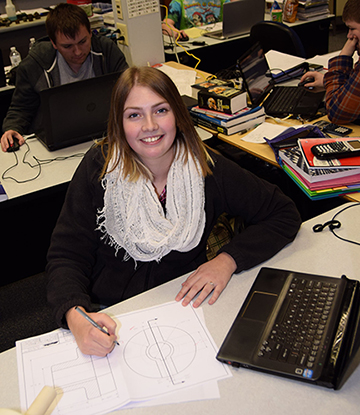 Emily Erdmann, an Alfred State senior drafting/CAD major from Whitesville, has recently been named a 2015-2016 Vanguard Student Recognition Award winner.
The award recognizes outstanding students who are enrolled in career and technical education (CTE) programs that prepare them for careers that are not traditional for their gender. Erdmann was one of four post-secondary education winners who were selected from a pool of nominees.
The winners will be recognized with a Vanguard Award Dinner in their honor on Thursday, April 7; a Vanguard Award Ceremony at the Association of Career & Technical Education Administrators (ACTEA) Conference Breakfast on Friday, April 8; and a videotaped interview with each of the awardees, which will be posted at www.netprogram.org. All festivities will be held in Albany at the Desmond Hotel.
Outside of the classroom, Erdmann is also a student ambassador and tutor. Karen Young, chair of the Computerized Design and Manufacturing Department, said Erdmann is "an instructor's dream," noting her excellent work ethic and attention to detail.
"Emily absorbs information extremely well, and applies everything she has learned along the way," Young said. "She is a very positive influence in the classroom and I am so very proud of her accomplishments. She will have an excellent career in drafting/CAD because she has all the characteristics of a great detailer."
The Vanguard Award is administered by the New York State Nontraditional Employment & Training (NET) Program, which is committed to the promotion of gender neutral educational strategies and practices. A program of the Center for Women in Government & Civil Society, it is funded through a grant from the New York State Education Department.