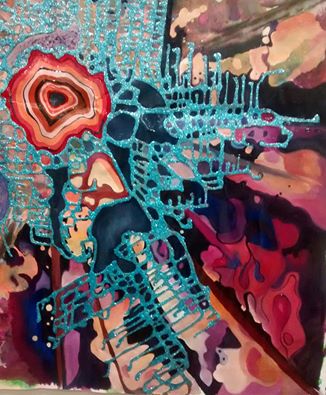 Artist-teacher and Alfred University alumna Ashley Smith will exhibit some of her multi-media artwork at the Alfred State Hinkle Memorial Library Feb. 29 through April 1.
Titled "Seeing in the Dark," the exhibit will include three series of works comprising 27 8-by-10 pieces, three large mandalas, and eight still life pieces of assorted size. Each series includes paintings on paper made using acrylic and oil paint. Smith also plans to show jewelry, primarily cuffs made of leather and cotton, which include intricate embroidery beading.
Smith practices teaching based on her artist process at Elmwood Village Charter School in Buffalo. Her art and teaching practice has most recently been influenced by mythology and Jungian archetypal psychology. She creates paintings, sculptures, and installations that blend a variety of concepts and media.
Although most of her art is abstract, Smith hopes "people will be inspired by the work to see into their own imagination or any place that has been dark, and allow whatever is there to become illuminated."
"The title of the exhibit is based on the work of Dr. Clarissa Pinkola Estes, who writes about how people can use myth and story to see all things in life 'not only through the eyes of the ego, but also through the intuitive eyes we have, the eyes of the soul,'" Smith said. "We all have moments as humans when we struggle to see through dark times and to get a sense of ourselves, and so Seeing in the Dark is about using intuition to see the treasures we all have within ourselves. That is what making art does for me."
Smith graduated in 2005 from Alfred University's School of Art and Design with a Bachelor of Fine Arts degree, and earned her master's degree in art education from the State University of New York College at Buffalo in 2014. She has received numerous awards and has held exhibitions at various locations throughout New York State.
The Seeing in the Dark exhibit will be open for viewing during normal viewing hours. To inquire about exhibiting your work in the Hinkle Gallery, email library@alfredstate.edu or call 607-587-4313.
Pictured is a "chaotic mandala."