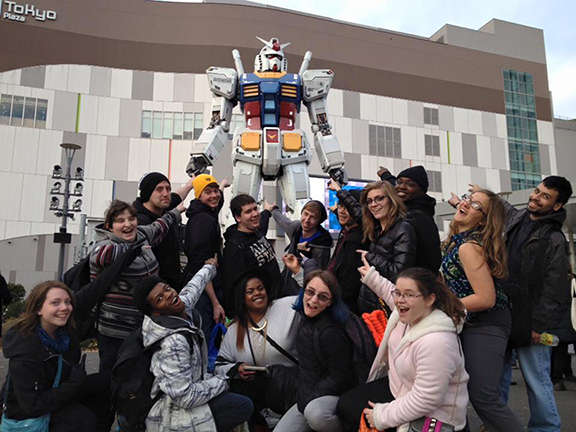 Fifteen students within the Digital Media and Animation Department last month received a unique, hands-on learning experience through a short-term study abroad program in Japan.
In Studio Tokyo, which ran from Jan. 9-24, the students were able to explore Japanese art, cinema, animation, and digital animation. They also created animation and digital animation projects in collaboration with local artists, and expanded upon their research of Japanese media through screenings and site visits.
Jeremy Speed Schwartz, assistant professor in the Digital Media and Animation Department, who accompanied the students to Japan, said some of the site visits that were part of the program included the Miraikan (National Museum of Emerging Science and Innovation) in Odaiba, the Studio Ghibli Museum in Mitaka, and the NHK Television Studio in Shibuya. He noted that students worked on a variety of production and independent research projects, culminating in the production of a five-minute animated music video in collaboration with the Japanese band named "Castro House."
"I was quite impressed with the quality of the design and animation our students were able to achieve in such a short time with the music video," he said, "especially considering how many other activities they were engaged with during the trip."
Students who participated included digital media and animation majors Ashley Adams, of Schenectady; Nicole Barber, of Rochester; Ben Ceci, of Penfield; Brian Chu, of Woodhaven; Alex Ciolek, of Orchard Park; Amelia Fantasia, of Jordan; Eric Gonzalez, of Cortlandt Manor; Tim Morgan, of Huguenot; Alexis Parker, of Honeoye Falls; Amelia Phillips, of Rochester; Nia Seward, of Newark Valley; Jordan Williams, of Huntington; and Kevon Wyllie, of Brooklyn; and graphic and media design majors Alex Jermyn, of Oswego; and Danielle Roberts, of Lockport.
For Fantasia, the program was "a fun and eye-opening cultural and artistic experience."
Overall, Speed Schwartz said, the trip went quite well.
"The students represented the school in an extremely professional manner, and were eager to explore new places," he said. "One group of students even took a day to go hiking at Mt. Takao, the tallest mountain in the greater Tokyo area."
Students pictured by the Gundam Statue in Odaiba, Japan, are, front row from left to right, Amelia Phillips, Jordan Williams, Nia Seward, Nicole Barber, and Ashley Adams; and back row from left to right, Amelia Fantasia, Tim Morgan, Alex Ciolek, Ben Ceci, Alex Jermyn, Brian Chu, Danielle Roberts, Kevon Wyllie, Alexis Parker, and Eric Gonzalez. Jermyn and Roberts are graphic and media design majors, while the rest of the students are majoring in digital media and animation.