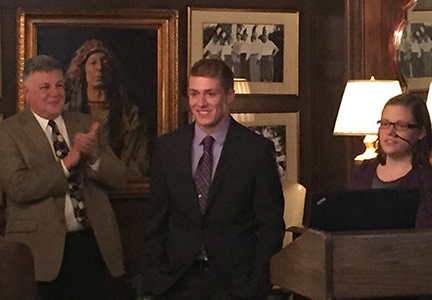 Brandon Holley, of Livonia, was awarded the 2015 Thomas Wurzer Memorial Scholarship at the January meeting of the Rochester chapter of the Construction Specifications Institute (CSI) at the Oak Hill Country Club in Rochester.
Holley is a third-year architecture student enrolled in the Bachelor of Architecture (BArch) program at Alfred State, and a member of the school's soccer team, which he led in scoring last year.
The purpose of the scholarship is to recognize a deserving student in an architectural, engineering, or constructional technology program, based on merit and by intent to aspire to a career in the design or construction profession.
From left to right are Kenneth Christiano, CSI, CDT, of SWBR Architects and president of CSI Rochester; Brandon Holley, Bachelor of Architecture, Livonia; and Jessica Kruse, CSI, CDT, LEED GA, LaBella Associates and education chair of CSI Rochester.