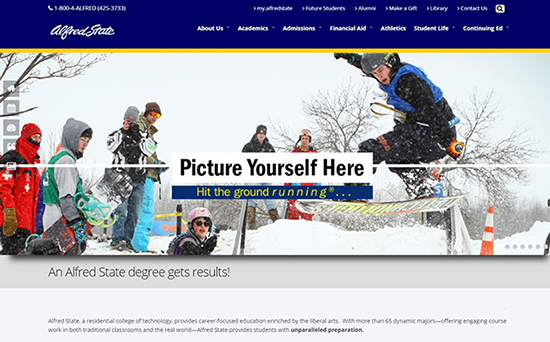 The National Research Center for College and University Admissions' (NRCCUA) 2015 Enrollment Power Index Report has awarded Alfred State an "A-minus" overall grade on its newly implemented responsive design website, www.alfredstate.edu, which launched in November 2014.
The college website's Small Public Four-Year Institution rank was first out of 327 colleges, and its Northeast rank was second out of 581. On a national scale, the website ranked fifth out of 2,929 higher education institutions. Alfred State's total score of 80.72 was higher than the national (44.26), Northeast (54.33), and Small Public Four-Year Institution (54.86) averages.
The Enrollment Power Index is a comprehensive evaluation of nearly 3,000 college websites in the country, scoring each one for the presence or absence of vital components necessary to take a prospective student through the admissions and enrollment process. College websites were rated on 37 different criteria, including page design and navigation, website interaction, online admissions tools, contact information availability, and much more.