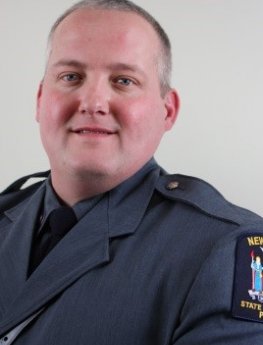 Jeff Wilcox, an officer with the New York State University Police at Alfred State, was among numerous SUNY police instructors of all ranks across the state to receive training on the new "Fair & Impartial Policing Perspective" model Jan. 12-14 in Syracuse.
SUNY and its University Police Departments strive for excellence, thus it is appropriate to adopt this state-of-the-art training that addresses issues of bias. Numerous police agencies across the country are rapidly adopting this model. The plan is for a core group of instructors to take this training to all of the SUNY police offices statewide.
The "Fair & Impartial Policing Perspective" reflects a new way of thinking about the issue of biased policing. The course was led by Lt. Col. JoAnn D. Johnson from the Illinois State Police Division of Internal Investigation, and Anna Laszlo, managing partner/COO of Fair and Impartial Policing LLC. This is the latest effort to build trust and strengthen the relationship between the University Police and the campus communities they serve.
According to the model's website, www.fairimpartialpolicing.com, the training is "based on the science of bias, which tells us that biased policing is not, as some contend, due to widespread racism in policing. In fact, the science tells that even well-intentioned humans (and thus, officers) manifest biases that can impact their perceptions and behavior. These biases can manifest below consciousness" and this training addresses this.
The website also mentions that, "The implication of the science is that even the best law enforcement officers may manifest bias because they are human, and even the best agencies, because they hire humans, must be proactive in producing fair and impartial policing … This program addresses biased policing and the overwhelming number of well-intentioned police in this country who aspire to fair and impartial policing, but who are human like the rest of us."
Elements of this comprehensive program encompass (a) recruitment/hiring; (b) agency policy; (c) training; (d) leadership supervision and accountability; (e) assessing institutional practices and policies; (f) outreach to diverse communities; and (g) measurement. This type of training has been recommended by the President's Task Force on 21st Century Policing.
There are approximately 600 State University of New York (SUNY) police officers at 29 campuses across New York State. All of the campuses have full-service police departments, some of which are accredited by New York State Division of Criminal Justice Services (NYSDCJS) and/or the Commission on Accreditation of Law Enforcement Authorities (CALEA). SUNY police officers serve the largest Public University System in the country.