Continuing to support Alfred State and its health care-related academic offerings, the Bethesda Foundation recently contributed $50,000 to the college's new radiologic technology program.
The Foundation's donation will help defray the costs associated with purchasing equipment, particularly an ionizing machine, needed for the success of the new two-year AAS in radiologic technology. The program, which launched in the fall 2015 semester, prepares qualified students to become health care professionals who administer X-rays to produce photographic and digital anatomical images for diagnostic, therapeutic, and research applications.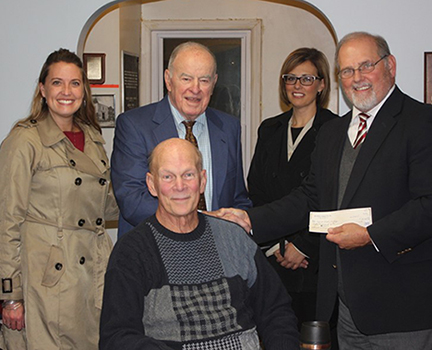 Phil Loree, president of the Bethesda Foundation, said, "We've been long supporters of Alfred State and when this opportunity to donate to the program arose, we were more than happy to be a part of it and we will continue to support it."
Dr. Skip Sullivan, president of Alfred State, said, "We are extremely grateful to the Bethesda Foundation for its generous donation and for its continued support of our college. The number of students who go through this program will be significant and impactful, certainly in western New York and I think in all of New York State and beyond. Our health care programs stay full and the Bethesda Foundation has helped to accomplish that."
Based in North Hornell, the Bethesda Foundation is a non-profit charitable organization devoted to the funding and support of health-related projects and scholarships in the Hornell area. It provides roughly $15,000 a year for scholarships at Alfred State for nursing students.
Alfred State faculty and staff who were involved in the creation of the radiologic technology program and in preparing the information for its proposal include Dr. Kristin Poppo, vice president for Academic Affairs; Dr. Robert Curry, dean of the School of Arts and Sciences; Mark Amman, professor and chair of the Physical and Life Sciences Department; Dr. Scott Waldeis, lecturer, Physical and Life Sciences; and Bridgett Mayorga, assistant professor, Physical and Life Sciences, and director of the radiologic technology program.
Mayorga said the Foundation's generous donation will allow radiologic technology students the opportunity to develop the skills they are acquiring in the classroom by using state-of-the-art digital imaging technology.
"The digital lab is a wonderful learning tool that will enhance student learning and support the mission and goals of the radiologic technology program and Alfred State," she said. "The donation from the Bethesda Foundation has helped make the digital imaging lab a reality. As the program director, I am excited by the possibilities the new lab will provide our students."
In photo above, Bethesda Foundation President Phil Loree, back row, second from left, presents Alfred State President Dr. Skip Sullivan with a check for $50,000 to benefit the college's new radiologic technology program. Also pictured are Bethesda Foundation Executive Director Fred Marks, sitting; Executive Director of Institutional Advancement Danielle White, back row, first from left; and Physical and Life Sciences Assistant Professor Bridgett Mayorga.