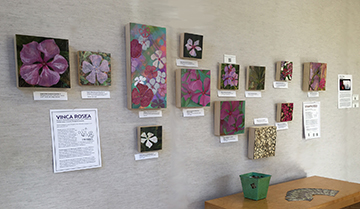 The Hinkle Memorial Library is currently featuring an award-winning art exhibit by Smethport, PA, artist and art instructor Julie Mader, titled "Power Within."
On display through Jan. 4, the exhibit is a collection of block prints, acrylic paintings, and mixed media pieces that center on plants containing alkaloids able to battle cancer cells, such as English Yew, Madagascar Periwinkle, and Mayapple. "Power Within" was selected by the Pennsylvania Council on the Arts as one of four projects chosen from more than 600 to be recognized as a "2014 Best of the Best Project."
"The collection was created to honor and recognize the strength required of cancer patients and survivors, the medical team, and those who love and support both sides," Mader said in her artist statement on the exhibit.
During visits to host sites, Mader, the Pennsylvania Wilds 2015 Artisan of the Year Award-winner, felt blessed to witness first-hand the impact that art can have, when on several occasions a stranger would share that viewing the paintings simply made them feel good. For Mader, this confirmed that her intent to offer comfort truly came through in the exhibit.
For more information on Mader and "Power Within," visit http://www.juliemader.com/ and http://powerwithinexhibit.weebly.com/.
The exhibit will be open for viewing during normal library hours. To inquire about exhibiting your work in the Hinkle Gallery, email library@alfredstate.edu or call 607-587-4313.