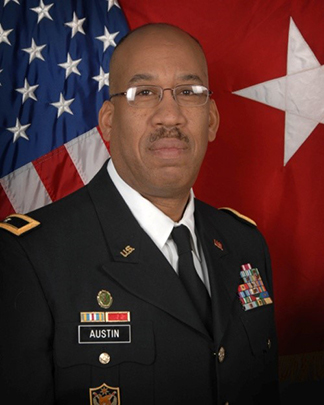 Students, faculty, staff, and community members are invited to listen to retired US Army Brig. Gen. Arthur G. Austin Jr. speak at 8:30 a.m. Veterans' Day (Nov. 11) in the Alfred State Student Activities Center gymnasium on the Wellsville campus.
Austin, who is a graduate of the Detroit Chadsey High School commercial foods program, will give a speech about opportunities in culinary arts from a military perspective, focusing on personal vignettes, examples of leadership, and making a difference in one's given field. He has commanded and overseen dining facility operations in both state-side and overseas operations. He also has personal experience in food service emergency response operations and with commercial food vendors during military operations.
The now-retired brigadier general entered into military service Jan. 8, 1977, as an enlisted member in the 177 Military Police (MP) Group, Michigan Army National Guard 210th Military Police Battalion. He attended basic training at Fort Knox, KY, before taking the MP Advanced Individual Training course at Fort McClellan, AL.
Austin entered the Reserve Officer Training Corps (ROTC) at Michigan State University in 1980, and was commissioned in March 1982. He has held various positions of command and responsibility over his 37 years of service, retiring as the deputy commanding general of the 46th Military Police Command in Lansing, MI on Oct. 31, 2014.
While serving in the military, Austin mobilized during the 1980 Cuban Refugee Crisis, in December 1990 for Operations Desert Shield and Desert Storm, in 2003 to Guantanamo Bay in Cuba for Operation Enduring Freedom, in 2005 for Operation Katrina/Rita, and in 2008 for Operation Iraqi Freedom.
Among his awards are the Federal Legion of Merit, Bronze Star Medal, and various campaign and personnel service awards. He is the 901st Bronze-level recipient of the Military Police Regiment Order of the Marechaussee and the 14th inductee of the Michigan State Spartan Battalion Hall of Fame.
Originally from Detroit, Austin lived in Southfield, MI, for more than 25 years before moving to Cuba, NY, where he and his wife, Karen, now call home.
A bake sale will also be held at the same location as Austin's speech that day, from 8:30 a.m. to 4:30 p.m., with all proceeds benefiting the LEEK Hunting and Mountain Preserve for disabled veterans.