After taking first place in two divisions at two straight competitions earlier this month, the Alfred State Pioneer Woodsmen's Club finished its strong season on a high note Saturday, Oct. 24.
That day the club took first place in the men's division and second place in the Jack and Jill division at a timber sports competition at the State University of New York (SUNY) College of Environmental Science and Forestry (ESF) in Syracuse. Coach Scott Bingham said he is very pleased with his club's performance.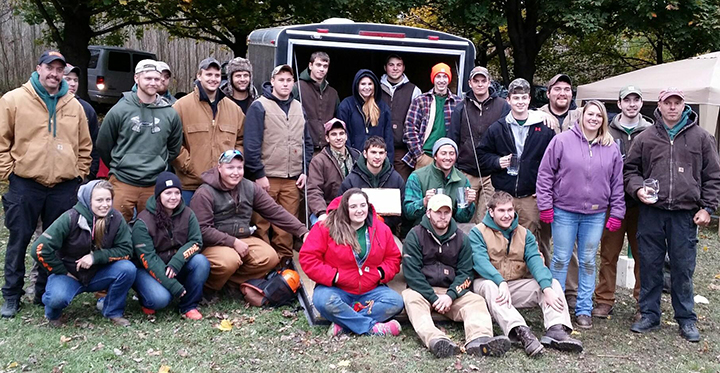 "For the first time, the men's team went undefeated for the season and the Jack and Jill team won two out of three shows, and didn't lose by much on this one," he said. "We also entered men's and Jack and Jills teams that are equivalent to JV teams, so I am glad to see we have some up-and-coming talent."
Team, individual, and double events at the Oct. 24 competition included bowsaw, log roll, axe throw, cookie stack, fire build, climbing, underhand chopping, and more. Other schools that competed included Finger Lakes Community College, Paul Smith's College, SUNY ESF, the SUNY-ESF Ranger School, Morrisville State, SUNY Cobleskill, University of Vermont, and the University of Connecticut.
Looking back on this semester, Bingham said, "It was a fast-paced season, but the team's desire and dedication prevailed."
Looking ahead, Bingham noted Alfred State will host the 70th Northeast Collegiate Woodsmen Conclave championships April 22-23. He said while training for that event will be a "very encumbering task," he has total confidence in his group.
"We have also been getting great support from the college, Student Senate, Stihl, and our alumni, which helps immensely," he said.