The Office of Equity, Inclusion and Title IX at Alfred State hosted a Week of Action Monday, Oct. 12 through Friday, Oct. 16 to bring awareness and resources to those in the community who are affected by sexual violence. All of the events were held in the Student Leadership Center (SLC) Park Space between 11 a.m. and 2 p.m. for students, faculty, and staff.
A clothing drive was also held from Oct. 9-16 for local hospitals to help victims and survivors of sexual assault. Hospitals will ask for the clothing worn by victims and take it as evidence for investigations. The issue that hospitals face now is that they are low on clothes to give to these victims when they leave.
Alfred State further participated in #PolishedMan, which gives men and women the initiative to stand up to violence against children and women. Painting one nail purple for 50 cents symbolizes the one in five children and women who will be victims of sexual violence in their lifetime. All of the proceeds went toward purchasing new clothing for the drive.
As for the Week of Action events, Mondaykicked off with Alfred State's Clothesline Project. This program addressed the issue of violence against women by providing a vehicle for men and women to express their emotions about domestic/sexual violence through decorating and displaying a shirt. The shirts were hung up around SLC as a testimony to the problem.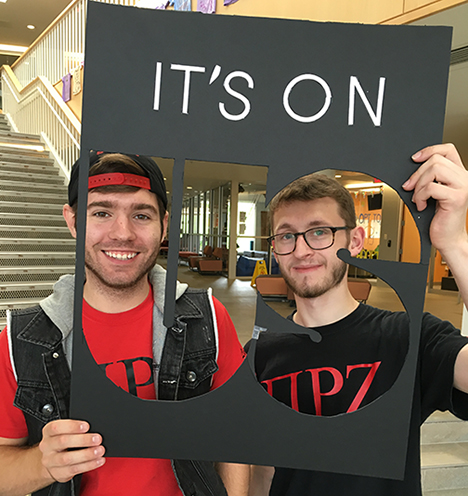 On Tuesday, students and faculty could take their picture in an "It's On Us" cut-out and sign a pledge to help keep women and men safe from sexual assault. On Wednesday, participants had the opportunity to create posters, signs, and items to wear for the "Take Back the Night" event on Thursday.
The biggest event of the week, Take Back the Night began with an educational talk led by Sarah Blagg of the Sexual Assault Resource Center. The talk focused on sexual assault, Title IX, and survivor experiences.
Afterward, 130 members of the Alfred State community marched through campus, on Main Street, and back to the SLC, where a reception was held in the Small Event Space. Members from the Counseling Services staff on campus were present if anyone wished to talk about sexual assault, experiences, and discuss resources available.
Prior to the talk, Crime Victims Coordinator Shannon Ozzella from the Allegany County District Attorney's Office addressed the crowd, commending them for the donations collected.
Tara Goldsbury, a technology management major from Brooklyn, who also interns in the Office of Equity, Inclusion and Title IX and helped plan many of the events, said, "It was rewarding to bring awareness to issues such as sexual harassment and sexual violence to Alfred State students, and to see how the community came together to make donations and get involved."
The week came to a successful end on Friday, the last day to sign the pledge, donate clothes, paint a nail, and decorate a shirt. Coordinator of Equity, Inclusion and Title IX Nikkie Hockenberry was overwhelmed with the support from the students and community.
"It was really encouraging to see so much support from students, in particular the Greek houses," she said. "As the adviser to the fraternity Pi Rho Zeta, it's important that we are celebrating the positive things these students bring to the community, especially around this topic. It was really powerful to see how our students are embracing the It's On Us campaign and our newest bystander awareness campaign 'Empower Alfred.' They truly look out for one another."
The guest speaker, Blagg, agreed, saying, "Sexual assault survivors - especially those on college campuses - often face a lot of hurdles when it comes to reporting what happened to them and getting the support they need. It was inspiring to see how many people support survivors on the Alfred State campus; they really have embraced bystander intervention and sexual assault prevention with gusto. I wish more colleges would take their lead."
In photo above, Alfred State students Tyler Ribble, business administration, Elmira, left, and Adam Johnson, architecture, Williamson, pose with an "It's On Us" cut-out sign during the Week of Action event at the college.