Houghton College, Alfred State, and Alfred University join together to serve local communities during the 2015 Make a Difference Day.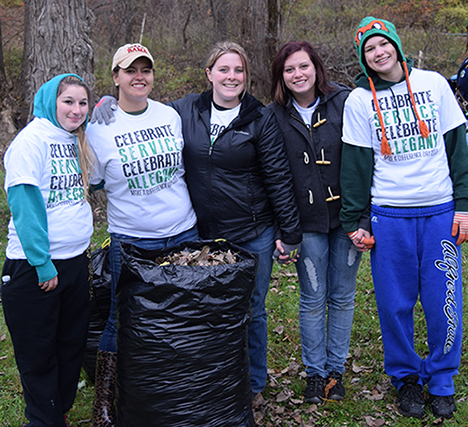 Make a Difference Day: Celebrate Service, Celebrate Allegany kicked off its fourth year this past Saturday and proved to be a huge success as approximately 500 local college students and volunteers from Alfred University, Alfred State, and Houghton College came together to perform a day of community service projects throughout Allegany County.
Students from all three institutions gathered at their respective colleges at 8 a.m. and were transported to pre-arranged service locations throughout the county, returning home about 4 p.m.
Locations spread from the north side of Allegany County to the far south side in which the students performed service projects ranging from outdoor activities, such as painting and grounds work, to indoor projects, such as assisting food pantries with cleanup and organization and assembling aid packages.
"While it is true that the students are serving the local communities, this day is really much more than that," commented Marshall Green, public relations specialist for Houghton College. "The students not only give but also get something in return…. They get to engage with their adoptive communities, meet with neighbors, business owners and other community volunteers. Most importantly, they get to see how, even in the small things, we have opportunities to make big impacts and create lasting relationships. My hope is that this will stick with them far past their college careers."
In year one, a total of 450 college students impacted the local communities of Allegany County with more than 2,500 hours of service. Over the combined four years, more than 1,700 students have participated, totaling more than 10,200 hours of service that have been provided to the local communities during just this annual day of service.
The impact of the day of service can go far beyond the single day. For the students, it is a way to illustrate and develop a culture and lifestyle of community service that they will hopefully carry with them throughout their tenure as students and into their lives post-education. For the local communities, it enables important tasks, projects, and events to get a jump-start, make significant progress or come to fruition.
The day of service also brings together students and the local community in a way that is beyond the traditional consumer context. New relationships and synergies have also been cultivated between the colleges and local businesses/non-profits that have developed new projects and outreach beyond Make a Difference Day.
"We demonstrate, through this day of action, the importance of active citizenship through direct service and developing relationships with neighbors," commented Alfred State College's director of civic engagement, Jonathan Hilsher. "The impact of this day is measured not only in concrete ways, but through the connections and longer-term partnerships that develop."
The three institutions rely on donations to help pay for the needed supplies, T-shirts and transportation for the day of service. This year, financial support was provided in part by Otis Eastern Service, Leadership Allegany, The Greater Allegany Chamber of Commerce, Allegany County Area Foundation, Swain Ski Resort and Alfred Sports Center.
Four years ago, Leadership Allegany organized the inaugural local service day, which facilitated the original partnership between the three colleges.
Make a Difference Day, the largest national day of community service, has been impacting lives for more than 20 years. Millions of people around the world unite to volunteer their time and energy for those around them. USA Weekend magazine and Points of Light, sponsors of Make a Difference Day, say, "regardless of age, location, or resources, we can accomplish amazing things when we take on the problems we see in our community."
Corey Fecteau, Alfred University's service learning coordinator, summed up the day: "Hearing the stories that students tell about their service experiences is very rewarding. During this day of service, all the student participants learn more about Allegany County communities and the vital services that volunteer organizations provide within those communities. An unexpected benefit, however, is that the students also learn about themselves and the roles they can play in serving their neighbors."
For more information about Make a Difference Day: Celebrate Service, Celebrate Allegany, please visit http://www.celebrateallegany.com.