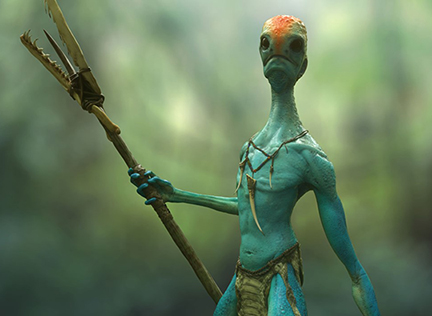 The Hinkle Memorial Library at Alfred State is featuring the work of alumnus and 3-D artist and sculptor Jason Thomas Burns now through Friday, Oct. 30.
Burns, of Alfred, earned his bachelor's degree in digital media and animation from Alfred State in 2012. He is the son of Lawrence "Ed" Burns, Alfred State SUNY Distinguished Teaching Professor, Mathematics and Physics Department.
On display are two clay sculptures, three 3-D printed sculptures, and nine digital renderings. Burns' work typically focuses on science-fiction and fantasy characters and creatures.
Burns said he hopes those who view his work carry away with them an appreciation for the intrinsic beauty and creativity of the digital art form.
"The pieces of artwork shown in the exhibit may not have some deep philosophical message embedded in them, but the artwork itself is the end product of a very creative process that allows the artist to take a piece of concept art, fashion it into a three-dimensional model, and then bring it to life in a three-dimensional printer," he said. "The process itself is its own reward, and it unlocks the brain's potential for creative reasoning, which is a skill that serves us well in all areas of our daily lives."
The exhibit will be open for viewing during normal library hours. To inquire about exhibiting your work in the Hinkle Gallery, email library@alfredstate.edu or call 607-587-4313.