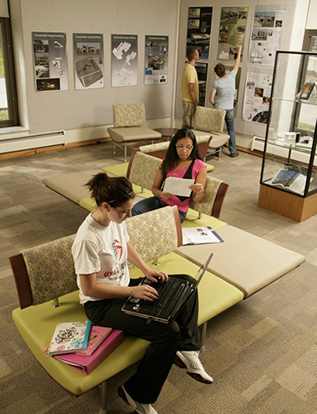 In conjunction with its 50th anniversary celebration, the Alfred State Hinkle Memorial Library is currently holding a campaign called 50 Years-50 Donors-50 Dollars to raise funds to refurbish its gallery exhibit space.
Specifically, funds raised through the 50-50-50 campaign will be used for new wall coverings in the exhibit space, additional display furniture, and a new gallery hanging system. The campaign's goal is $2,500.
During the academic year, the gallery is host to displays of work by students, faculty and staff, community members and regional artists, and an occasional traveling show. The September exhibit featured photographic highlights of the Hinkle Library's first 50 years. In celebration of its 50th anniversary, the library hosted an informal reception and provided a complimentary breakfast on Sept. 12 during Homecoming/Family Weekend.
Coming in October is the sculptural work of Jason Burns of Alfred, who graduated from Alfred State in 2012 with a bachelor's degree in digital media and animation. In November, the gallery will feature the paintings of Judie Mader, of Smethport, PA.
To see this academic year's full gallery schedule, visit the library Web page and click on the gallery tab. To inquire about exhibiting your work in the Hinkle Gallery, email library@alfredstate.edu, or call 607- 587-4313.
To donate to the 50-50-50 campaign, contact Institutional Advancement at ia@alfredstate.edu or 607-587-3930.