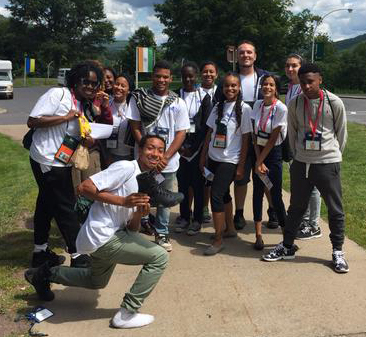 Channon Burroughs, an Alfred State admissions counselor, was selected to serve as a mentor for the New York State Association for College Admission Counseling (NYSACAC) Camp College program, held Aug. 7-9 at the State University of New York at Delhi.
NYSACAC's Camp College is a three-day-weekend, pre-college experience, in which high school students from different parts of the Hudson Valley and New York City areas live on campus, attend mock classes taught by college professors, participate in workshops on admissions and financial aid, learn college interview and essay-writing techniques, and gain leadership and teamwork experience in a small collaborative group with mentor facilitators.
As a program mentor, Burroughs said her main role was to work with a small group of 11 high school students, facilitating discussion and activities relating to their interests, goals, and plans for the future, and providing college admissions advisement.
"My other roles as mentor were making sure the students went to each workshop, and ensuring they were engaged in all activities on campus while remaining on schedule," she said.
Burroughs said her experience at the program was "eye-opening" and joked that she didn't know she had that much energy in her.
"From the time these 11 teens set foot on campus, to the time they boarded their bus on Sunday, they were with me and three other mentors," Burroughs said. "In those couple of days, I saw this group go from barely saying a word to one another on Friday to looking like they've known each other for years on Sunday.
"There was a young lady who is going to be a first-generation college student, who said if it wasn't for this trip, she wouldn't have known where to begin in the college-seeking and application process, especially when it came to financial aid."
Burroughs continued, "Each of these students had a story that changed for the better dramatically. So when I think of my experience as a mentor, as someone who helped these kids in a great way, it all just feels rewarding and makes me love my job even more."
In photo above: Alfred State Admissions Counselor Channon Burroughs, second row, first on the left, is pictured along with the 11 students she mentored.