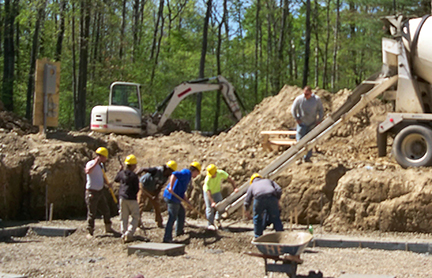 Alfred State students enrolled in several applied technology programs will be working this fall on building house 54 for the Wellsville community.
The one-story, 2,972-square-foot, French country-style house will feature three bedrooms, a dining area, a spacious kitchen, an entertainment alcove, a laundry room, a small home office, two bathrooms, a covered rear porch with a fireplace, and a full basement. The house does not yet have an assigned address.
According to Dr. Craig Clark, executive director and dean of the School of Applied Technology, the basement excavation for the house has begun, but the "real" work will start in the fall. Students in the following majors will be working on house 54 as a hands-on learning experience: heavy equipment operations, building trades: building construction, masonry, electrical construction and maintenance electrician, and air conditioning and heating technology.
The houses Alfred State students regularly build for the community, valued at more than $200,000, take two years to complete and are then subsequently sold on the open market and occupied.
Students build and detail the houses in a subdivision owned by the Educational Foundation of Alfred, Inc., a private foundation dedicated to improving the Alfred State community through the support of educational programs. The Educational Foundation funds the construction of the houses.
Under the supervision of their instructors, tomorrow's craftspeople prove themselves by building for discerning homeowners. For students, it's an unmatched opportunity to put their learning into practice and gain real-world experience.
"These hands-on projects - building homes and selling them - prepare students for their careers and are one of the main reasons our students are hired," Clark said. "The live work sets Alfred State apart from other colleges and makes our graduates more valuable for employers."