The New York State University Police Department at Alfred State was recently awarded official status as an Accredited Law Enforcement Agency by the New York State Division of Criminal Justice Services' Law Enforcement Accreditation Program. Alfred State University Police joins the Wellsville and Hornell police forces as the area's only accredited agencies, and is the fifth State University of New York (SUNY) Police Department to receive this designation.
Chief Gregory Sammons and Lt. Matt Heller attended the recent vote and ceremony, where the accreditation council voted unanimously to award the Alfred State University Police this honor, achieved by less than 20 percent of all police departments in the state. In his remarks at the ceremony, Sammons said that accreditation "is a tremendous honor for our agency," and the entire process served to affirm the existing policies and procedures of the department. Having served as the department's accreditation manager, Heller noted that "although the process is extensive and tedious at times, it is well worth the investment." He specifically thanked Alfred State President John M. Anderson and former Vice President for Student Affairs Steven Tyrell for being "very supportive of the department's efforts."
Accreditation serves to improve the effectiveness and efficiency of the department, including through increased cooperation and coordination among law enforcement agencies, ensure consistent and appropriate training of personnel, and promote public confidence in the work of the agency. It also reduces the likelihood of liability litigation, enables the agency to correct procedural deficiencies and create proactive systems, and develops support at the community, state, and local government levels. Accredited departments are re-assessed every five years.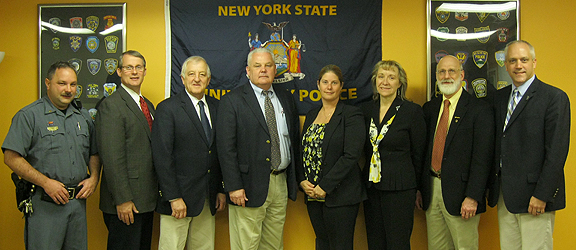 Alfred State University Police members, college administration, and members of the NYS Division of Criminal Justice Services Accreditation team gathered for a photo. Pictured are (l-r): Lt. Matt Heller, Alfred State University Police; Dr. Steve Tyrell, former vice president for student affairs; Retired Chief Fran Broski, Sherrill City Police; Accreditation team leader Chief Deputy Thomas Beatty, Niagara County Sheriff's Office; Investigator Christa Heckathorn, Cattaraugus County Sheriff's Office; Valerie Nixon, vice president for administration and enrollment; Dr. Stephen Havlovic, vice president, academic affairs; and Chief Gregory Sammons, University Police and interim vice president for student affairs.