Two Alfred State College graduating seniors were named State University of New York (SUNY) 2011 Chancellor's Award for Student Excellence winners. SUNY Chancellor Nancy L. Zimpher honored 249 college students from SUNY campuses throughout the state with the 2011 Chancellor's Award for Student Excellence, a rigorous three-part process that begins at the campus and evaluates each student's performance not only in the classroom, but also in the athletic arena, the art studio, and the community, to determine the winners. This year's recipients of the Chancellor's Award for Student Excellence are among the most gifted and talented students in the entire SUNY system.
"The 249 students we honor today have excelled academically and taken advantage of what SUNY has to offer outside the classroom," said Chancellor Zimpher during the ceremony. "These students are proven leaders, athletes, artists, community servants, and much more. They represent the future of our state and are perfect examples of The Power of SUNY. I congratulate all of the students receiving recognition today and thank them for the positive impact each of them has had on SUNY and the communities we serve."
Andrew Catlin, Webster, and Lydia Moore, Wolcott, were honored at a reception in Albany where they received commemorative certificates and medallions suitable to be worn at commencement and other special events.
Catlin, who will earn his associate's in occupational studies degree in Alfred State's building trades: building construction program, holds and maintains a grade point average (GPA) of 4.0 (out of a possible 4.0).
During his time at ASC, Catlin has been involved with community service. He was active in organizing fundraising efforts for the Haiti earthquake victims. He also helped organize and "Study in the South" program. He worked with Habitat for Humanity and the Episcopal Diocese by rebuilding homes that were damaged or lost from Hurricane Katrina.
Additionally, Catlin has served as vice president and president of the Habitat Club. He served as treasurer of the Sustainability Club from 2009-10. He was also a member of the Timber Framing Club where he helped build the timber frame pavilion for the Wellsville Campus.
Catlin, a recognizable name on ASC's Dean's List, also received the Outstanding Student Award from Building Trades and was given the Student Senate Leadership Scholarship in Spring 2010.
Moore, who will be graduating with her associate's degree in liberal arts and sciences: social sciences, possesses a 3.86 GPA. She was named to the Dean's List for her last four semesters.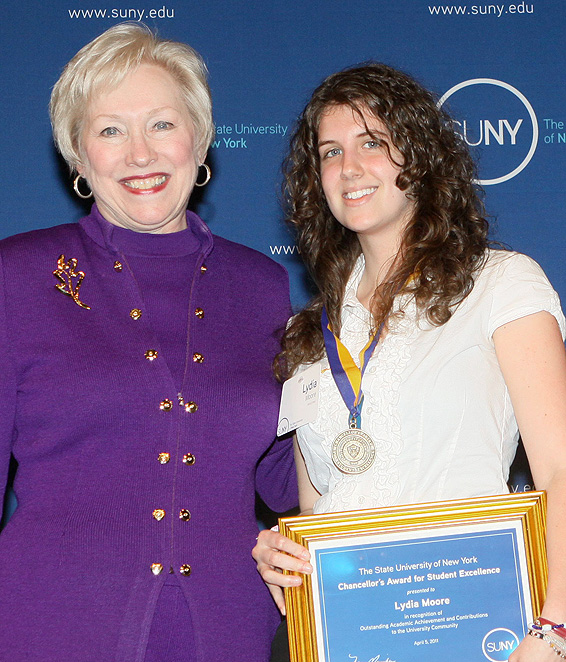 During her time at Alfred State College, Moore has earned a number of academic awards. She is a member of Phi Theta Kappa, Braddon Residence Hall Council, is secretary for the Gay Straight Alliance and for the Drama Club, and chief editor for Ergo, the college's student-created creative arts magazine. She still finds time to serve as "note-taker" for students at the college, start a national novel writing group, and participate in many community fundraisers: Roswell Cancer Research Center, Roberto's Kids, World Vision, and Relay for Life.
The Chancellor's Award for Student Excellence was created 14 years ago to recognize students who have best demonstrated, and been recognized for, the integration of academic excellence with accomplishments in the areas of leadership, athletics, community service, creative and performing arts, or career achievement. The average Grade Point Average (GPA) for all recipients this year is 3.8.
Each year, campus presidents establish a selection committee, which reviews exemplary members of their college communities who are graduating. Nominees are then forwarded to the Chancellor's Office and are subject to a second round of review. Finalists are then recommended to the Chancellor to become recipients of the Chancellor's Award for Student Excellence.