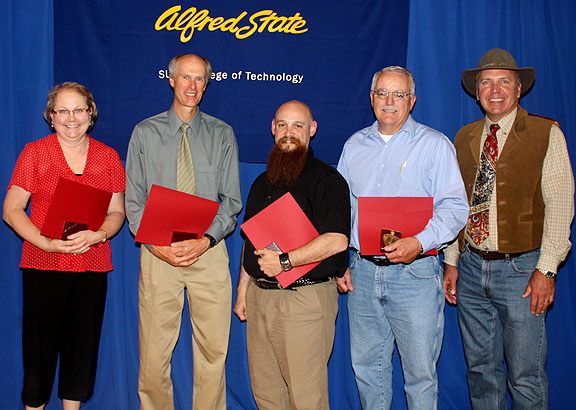 Four members
of Alfred State College's staff were honored with the SUNY (State University of
New York) Chancellor's Award for Excellence this spring.  Those so honored
were Athletics, Excellence in
Professional Service; , Belmont, associate professor
and chair, Automotive Trades Department, Excellence in Faculty Service;
Christopher Tomasi, Cuba, associate professor, Mechanical
Engineering Technology Department, Excellence in Teaching; and new this year,
the Chancellor's Award for Excellence in Classified Service, Joanne White,
Wellsville,secretary, Student Life.
Recipients
were honored at the college's annual recognition luncheon held at the end of
the spring semester.
The four are among more than 100 classroom teachers, librarians, professional
and classified service employees in the SUNY system cited for excellence in the
performance of their duties.
Announcement of the winners was made by SUNY officials who noted that the
selection of recipients follows the recommendation by the SUNY Advisory
Committee on Awards.  The committee reviews nominations from the faculty,
students, and colleagues of the recipients throughout the 64-campus system.
Each
winner receives a cast bronze medallion, suitable to be worn at academic ceremonies,
and an inscribed certificate.
The Chancellor's Award for Excellence in Professional Service recognizes
a member of the professional staff who has provided outstanding service to
Alfred State College and demonstrates excellence in professional activities
beyond the job description.
Among
Moore's accomplishments, he was especially cited for being a "dedicated
athlete, employee, coach, and college and community citizen.  He has left
his mark on countless student athletes and is one of the College's (and SUNY's)
best ambassadors.  He has become a role
model for
others in his profession and has built a nationally recognized and respected
track and field program
at Alfred State College." Moore was also cited for "his pursuit of excellence,
his exceptionally high standards, and his consistently superior professional
achievement."
The Chancellor's Award for Excellence in Faculty Service recognizes an
academic faculty member who has provided outstanding and sustained service to
the Alfred State College campus, the University, the community, disciplinary
and professional organizations or within faculty governance.  The award
also requires that the faculty member has distinguished him or herself through
outstanding service at the state, national, or international level. 
Merrick,
who joined the faculty in 1980, was cited for quickly becoming "known for his
commitment, ingenuity, and energy in developing service opportunities that
benefited the college, the students, and the community. Skip's service to the
campus is as varied and extensive as that he provides to his community."
The
Chancellor's Award for Excellence in Teaching has as its primary
criterion mastery of teaching techniques and superb skill in teaching. 
Candidates must evidence flexible and adaptive instruction that takes student
needs and interests into consideration in order to maximize student
learning.  Scholarship, professional growth, and service are also
components of the award.
Tomasi was cited for performing "superbly in the classroom at the undergraduate
level, consistent with SUNY's commitment to providing the highest quality of
education to students.  He consistently demonstrates the highest level of
teaching expertise in the highly technical mechanical engineering technology
program.  His teaching philosophy places extreme importance on the
responsibilities and influences of teaching faculty. He endeavors to inspire
the students to perform at levels much higher than required to meet current
standards. His ability to remain current and to exceed industry standards in
course delivery demonstrates his passion for teaching."
The Chancellor's Award for Excellence in Classified Service was
established to give SUNY-wide recognition for superior performance and
extraordinary achievement by employees in the Classified Service. These awards
demonstrate SUNY's commitment to individuals who
provide
superior service to its students and the community at large.
White was cited for her "outgoing, generous, and hardworking nature.  She
helps new employees [of the Student Life Office] become assimilated to their
surroundings by making introductions to other members of the community,
preparing their work space, and answering questions.  She is a fountain of
knowledge and continues to be an effective guide" as the new employees become
more comfortable in their roles. "It is obvious JoAnne loves what she
does.  She serves as a role model for every member of the Alfred State
community."