At a glance

Earlier this summer, the two most recent groups of students to travel to Haiti – 24 students in all – completed 10 days of work-intensive learning at the Haiti Health Ministry in Leogane.
Since the 2010 earthquake in Haiti, 64 Alfred State students in the College's Agriculture & Veterinary Technology. "It was a powerful experience. No text book or lecture could have taught them what they learned from their experience in Haiti. Best of all, the contribution they made will be felt for years to come."
Alfred State's unique focus on hands-on, project-based learning is rooted in the concepts of civic engagement and sustainability and provides the foundation for all learning at Alfred State. Local students returning from this summer's session in Haiti include: Alfred Station – Patrick Umphries, building trades; Almond – Billy Ernest, veterinary technology; Lisa Reynolds, nursing; Megan Votava, nursing; Addison – Craig Quick, building trades; Andover – Chris Reynolds, nursing; Hunt – Ethan Duell, building trades; Wellsville – Nicole Terwilliger, veterinary technology.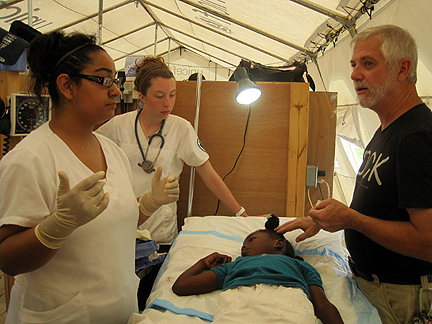 Alfred State nursing students (from left) Gurvinder Kaur and Sunnie Day assist Dr. Jim Wilkens in examining a patient in Haiti.
Alfred State building technology students (from left) Patrick Umphries, Eric Scott, and Megan Votava (nursing) construct some bunk beds for the guesthouse.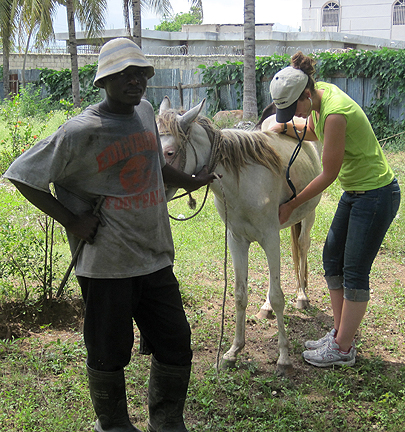 Alfred veterinary technology students Erin Baum examines a horse for a Haitian farmer.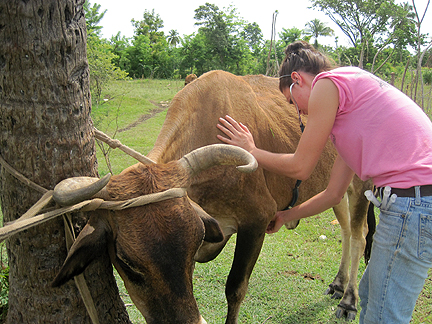 Alfred veterinary technology student Michele Marinich examines a cow during a veterinary clinic.