Just as most college students are planning for some fun in the summer sun, 23 Alfred State College students are heading for the tropics of Haiti to lend a hand (or 46) in the rebuilding of that island nation, more than a year after the devastating January 2010 earthquake.
This year, 23 students will echo last year's ASC efforts, traveling in two teams to lend their expertise to continuing relief efforts: 12 students will be in Haiti from May 17 - 27, and 11 students will be in Haiti from May 26 - June 5. These students have paid $500 toward their trip and have worked as a group to raise more than $12,000 toward trip expenses and building materials for the project in Haiti.
Students from the building trades, nursing, and veterinary technology programs will help build a medical clinic for a ministry called Haiti Health Ministries. The building trades students will spend all of their time with the construction, while the other students will volunteer in their respective fields as well as help in the construction.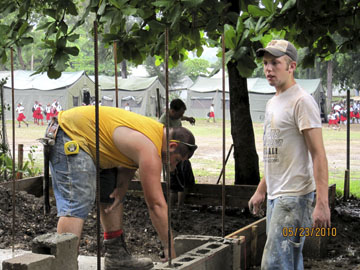 Last year, two teams totaling 21 students, traveled "back to back" to Haiti in May and June. These teams were involved primarily in construction, but also helped with some feeding programs and provided some veterinary care to Haitian livestock.
Like last year, this year's traveling students will stay at a guesthouse in Christianville, very close to the epicenter of the earthquake. These young men and women can also expect similar day-to-day experiences: a work day beginning at 7 a.m., and heat and humidity reaching uncomfortable levels by that time.
In 2010, the ASC building trades students were responsible for building forms, preparing foundations for concrete pours, and laying block to help build the new facilities. The work was labor intensive: the cement blocks were made two at a time by hand with the aid of a manually operated machine to press the cement mix into forms to create the blocks. The students helped operate the press and carry the blocks to a curing area. About 700 blocks could be produced in one work day. Alfred State students also spent many hours bending rebar and sorting the pile of rubble into usable fractions. This year's building trades students can expect much the same type of labor.
Alfred State students with expertise in vet tech last year were able to provide some care for the local livestock by conducting a veterinary clinic for the local farmers. This work provided exposure to diseases and vaccines foreign to upstate New York.
Beyond all of the work, however, building relationships with the Haitian people made the heat and toil worthwhile. Language barriers fell as students worked side-by-side with their Haitian co-workers. They quickly mastered innovative nonverbal communication skills, developing their own brand of sign and body language. The students also made a valiant effort to learn Haitian Creole and were quite good at learning vocabulary.
"It was heart-warming to see the hugs and tears as the Haitians and the Alfred State students said their good-byes at the end of the trip," said Dr. Douglas Pierson, who accompanied the students last year and will repeat that experience, himself, this year as well.
"This was a transformative experience for the Alfred State students. Most had never been immersed in another culture and certainly most had never experienced poverty at the level that it exists in Haiti. This trip changed perspectives and brought new appreciation we all should have as Americans for the quality of life we enjoy. These Alfred State students also left Haiti with a new compassion and a desire to share their time and talent when possible to improve the lot of others around them, whether in their own community or across borders around the globe," Pierson added.
Thanks to Alfred State's ability to prepare students to "hit the ground running," ASC students possess a strong foundation for employment in diverse industries. These same skills that are valuable to employers are also invaluable in places like Haiti.