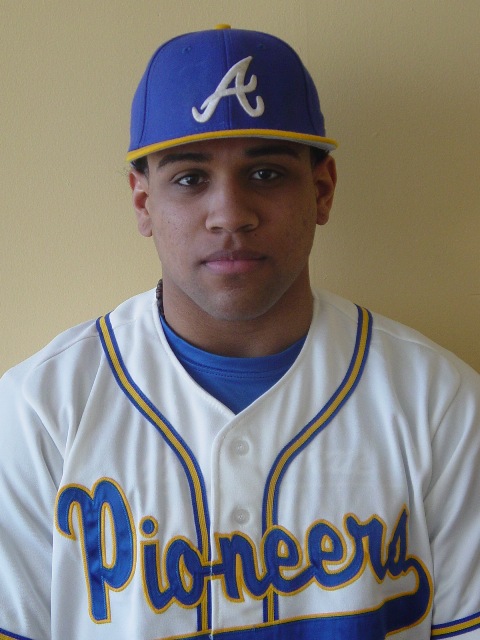 Six members of the Alfred State College baseball team have been honored by being selected to the All-Region team.  Adalberto Vargas (Norman Thomas) and Kyle Binder (Hornell) were named to the 1st team while Andrew Foster (Mississauga, ONT), Jake Dale (Keshequa), Karl Kofmel (Ottawa, ONT), and Kenny O'Brien (Norwalk, CT) were 2nd team selections.
Vargas led the Pioneers with a .407 batting average (55 for 135), 11 doubles, six homers, and 49 RBI.  He scored 47 runs, stole 19 bases in 21 attempts, and finished the year with a .667 slugging percentage. 
Binder pitched 52.2 innings on the mound this spring for the blue and gold.  He finished with tied for the team lead with five wins (5-3).  He led the team with a 2.56 ERA.  He struck out 36 while walking 23 and opponents hit .254 versus him on the season.
Foster tossed 57 innings for ASC this spring.  He made nine starts and had a 4-5 record and a 3.63 ERA.  He struck out 65 batters and walked 36.  Opponents hit just .238 versus him on the season.
Dale started every game this spring and was behind the plate for almost every inning in the team's final 30 games.  He finished the campaign with a .357 batting average (45 for 126), seven double, four triples, two homers, and 33 RBI.  He also was 16 for 16 on the bases and threw out 14 runners.
Kofmel registered a .325 batting average (37 for 114) with four doubles, four triples, and 27 RBI.  He stole nine bases and had a .975 fielding percentage at his first base position.
O'Brien hit .364 (40 for 110) on the season from his leadoff spot in the line-up.  He collected 10 doubles, three triples, two homers, and 28 RBI.  He didn't commit an error in 67 chances (4 assists) in centerfield.
Alfred State finished the 2009 spring season with a 26-17 mark.  The team was the #3 seed in the Region III Division II Tournament where they dropped two heartbreaking contests.