Members of the Alfred State College
community were all smiles recently as they celebrated the "grand re-opening" of
the Engineering Technology Building
following a seven-year, $17 million rehab project. 
Members of the faculty and staff as well as
local government officials and representatives of the various organizations
involved in the project were on hand for the ribbon-cutting ceremony in
August.
Some of the major rehab projects
included new offices, classrooms, and laboratories for virtually all the engineering
technology programs, a $1 million equipment grant from the Gleason Foundation,
a large tiered lecture hall (SET 215), the clean room facilities for
microelectronics fabrication, machine tool and robotics labs, architectural
technology studios, and a new student lounge, just to name a few.
College officials thanked those companies
and individuals who worked on the project, including Terry Weaver and Jim
Denaker of the SUNY Construction Fund; architect Phil Scaffidi of Scaffidi and
Moore; engineers from Hatch Associates and RP Morrow; contractors, including Pike
Construction, Christa Construction, and Horning Construction; as well as
Douglas J. Barber, dean emeritus, School of Management and Engineering
Technology, for initiating and leading the project for ASC.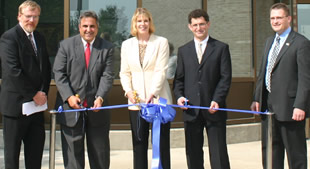 Pictured here,
cutting the ceremonial ribbon, are, l-r: 
Craig R. Clark, interim vice president for academic affairs; NYS
Assemblyman Joe Giglio, (R- District 149); NYS Sen. Catharine Young, (R-District
57), Dr. Ronald R. Rosati, provost and officer in charge; and Austin Cheney,
dean, School of Management and Engineering Technology.