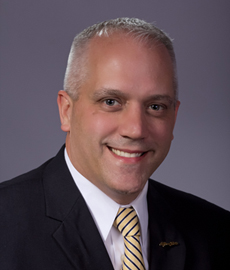 Alfred State announces the appointment of Greg Sammons to the position of Vice President for Student Affairs.
Sammons, who joined Alfred State in 1996, was appointed chief of police in 2005. In 2012, he became interim vice president for student affairs. With this appointment, he will oversee departments including University Police.
Earlier this year, Sammons was awarded the Chancellor's Award for Excellence in Professional Service. He has an associate's degree in applied science degree in criminal justice from Finger Lakes Community College, a bachelor's degree in organizational management from Houghton College, and a master's degree in justice administration from Norwich University.