In a departure from traditional opening remarks, Alfred State College President Dr. John M. Anderson this year kicked off the fall semester by sharing his vision of the future with assembled faculty and staff.
Reiterating the theme of small college, big dreams, Anderson envisioned, among other things, the following for the College: a continued rise in the US News and World Report rankings; continuing increased demand for its programs; expansion of ASC's study abroad programming; increased national and global recognition through student participation in national competitions, hosting national and international symposia on campus, and impactful civic service, not only in the United States, but in other countries as well; and some major infrastructure additions to both campuses.
"After all," Anderson noted, "imagination is the first step to reality!"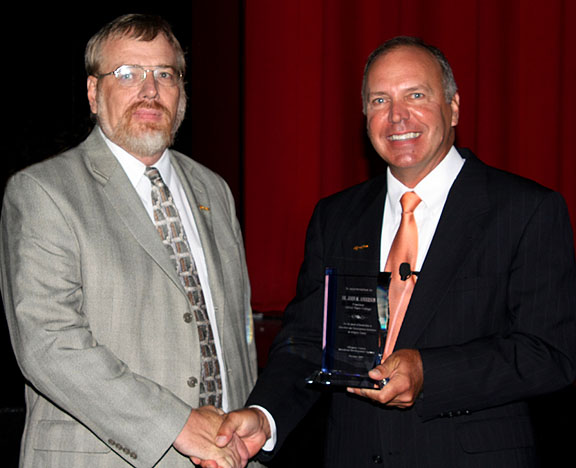 Other "business" conducted at the event included the introduction of new faculty and staff as well as the presentation of the President's "Innovation Award" to Craig Clark, dean, School of Applied Technology, and executive director, Wellsville campus. Clark was cited for his quiet demeanor which belies his ability to "get the job done," including securing millions of dollars in funding for the college.
Clark has been associated with Alfred State College since 1979, serving in a variety of teaching and administrative capacities, including professor and department chair, Civil Engineering Technology, as well as interim vice president for academic affairs.
Since 1996, Clark has served as dean of the School of Applied Technology in Wellsville, where he oversees the college's satellite campus with an annual budget of over $3 million with 65 faculty and staff. Clark also works closely with the Educational Foundation that owns the campus.
Clark holds a master of science degree in civil engineering with a major in construction engineering and management from North Carolina State University, a bachelor of science degree in civil engineering from the University of Colorado, and an associate of science degree in engineering science from Jamestown Community College. He has completed course work at Carnegie-Mellon University, College Management Program, Heinz School of Public Policy and Management. He is a candidate for the PhD in civil engineering with North Carolina State University.
Clark is a member of the American Society for Engineering Education, the American Concrete Institute, the Association for Career and Technical Education, and SkillsUSA. He serves as New York State director for Postsecondary SkillsUSA and is a licensed Professional Engineer in New York State.
Clark also serves as the mayor of the Village of Alfred.