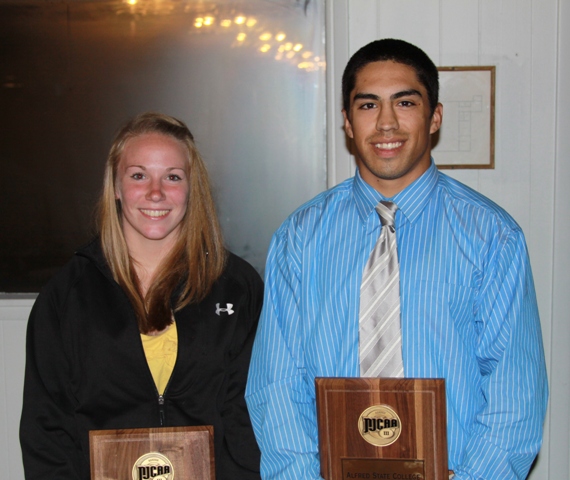 Mo Parks (Avoca) and JP Frey (Erie, PA) have been named the 2011 Alfred State College senior athletes of the year. Parks was a two-year member of the soccer and track & field teams while Frey has been a mainstay on the baseball team the past two years.
Parks had a 20-7-4 record in goal for the Lady Pioneers. She made 196 saves and recorded 12 shutouts. For her efforts on the soccer field she was named All-WNYAC twice and All-Region once. In track & field competition Parks earned All-Region honors by winning the hammer throw and helped the Lady Pioneers to the Region III Championship in 2011. She also qualified for the NJCAA Division III National Championships with the 3rd best throw of the year.
Frey led the Pioneers with a .379 batting average. He collected eight doubles, two triples, a homer, and 15 RBI. He also stole 16 bases. For his two-year career he started in all 93 games, hit .381 with 46 RBI and 42 stolen bases. He has been named All-WNYAC twice, All-Region once, and was the 2010 ASC freshman athlete of the year. He will continue his collegiate career next year at Delaware State University.
Parks and Frey were honored at a ceremony held recently at the Lake Lodge.