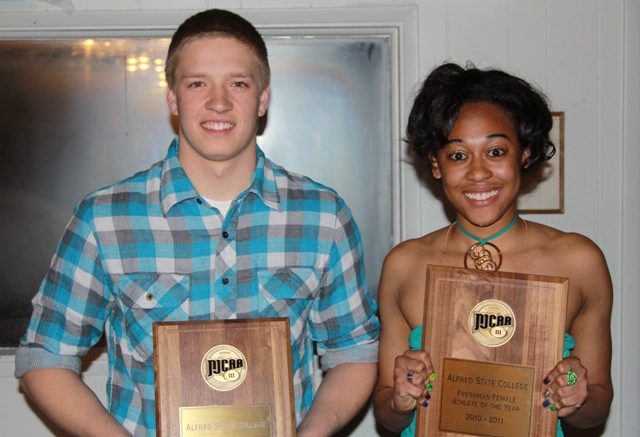 Tara Murphy (Rochester/Wilson) and Colter Johnson (Warren, PA) were named the 2011 Alfred State College freshman athletes of the year. Murphy ran to All-American honors in track & field while Johnson punted his way to All-American on the football gridiron.
Murphy was a member of the cross country, indoor track & field, and outdoor track & field teams. She won the Region III titles, both indoor and outdoor, in the 400, 800, and 4 x 400 relay. At indoor nationals she set a new school record in the 800 with her 6th place finish. At outdoor nationals she earned 2nd team NJCAA All-American honors in the 400 and 4 x 400. She was named All-Region in both indoor and outdoor season and was named the most outstanding track athlete at the outdoor regionals.
Johnson was one of the top punters in the NJCAA this past season. He was named honorable mention All-American and 1st team All-Northeast Football Conference after averaging 38.6 yards per punt this year. Ten of his punts landed inside the 20 and his longest punt of the season was 77 yards. He was named the NJCAA and NFC special teams player of the week on November 8th. Johnson will return for his second year as the top punter in the NJCAA.
Murphy and Johnson were recently presented with their awards at the annual sports banquet held at the Lake Lodge.