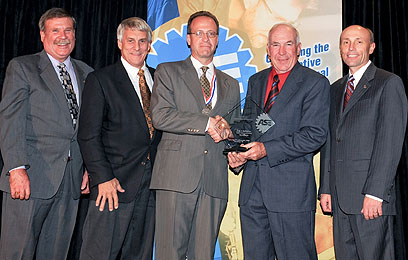 At
a technician recognition awards banquet held in San Diego, CA, in November,
John Garippa, Wayland, associate professor, Automotive Trades, Alfred State
College, was honored as the NATEF/ASE (National Automotive Technicians Education Foundation/Automotive
Service Excellence) Instructor of the
Year. 
Garippa
worked as a technician for 24 years before joining the faculty at SUNY College
of Technology at Alfred, 14 years ago.  Garippa gained extensive GM training
and was a member of Chevrolet's National Advisory Council while working as a
technician.  He has continued his participation in numerous OEM and
aftermarket training seminars and clinics.  As a professor, teaching
automotive principles to his students allows him the very rewarding opportunity
to share his expertise with the next generation of automotive technicians.
Garippa
has been taking things apart since he was a kid: bicycles, mini-bikes,
motorcycles, etc.  As a teenager, he graduated to cars and trucks. 
He liked it so much that he decided to attend Alfred State College where he
earned an associate's degree in automotive technology.  John has been an
ASE-certified master automobile technician since 1984.
Garippa is one of 37
outstanding ASE-certified technicians, nationally recognized by different
segments of the automotive service and repair industry.  Each of these
elite technicians was presented with an industry-specific award recognizing his
achievement.
Bill Kersten,
president, NATEF; Dan Perrin, NATEF board chair; Joe Torchiana, ASE board of
directors chair; and Timothy Zilke, ASE president, presented the award to
Garippa at ASE's annual Board of Directors' Industry Awards Dinner. 
Pictured left to right: Torchiana, Kersten, Garippa,
Perrin, and Zilke.
NATEF was founded in
1983 as an independent, non-profit organization with a single mission: To
evaluate technician training programs against standards developed by the
automotive industry and recommend qualifying programs for certification
(accreditation) by ASE, the National Institute for Automotive Service
Excellence.
The National Institute
for Automotive Service Excellence (ASE) was founded in 1972 as a non-profit,
independent organization dedicated to improving the quality of automotive
service and repair through voluntary testing and certification of automotive
professionals.  More than 400,000 ASE-certified automobile, truck, and
collision repair technicians, engine machinists and parts specialists work in
dealerships, independent shops, service stations, auto parts stores, fleets,
schools, and colleges.