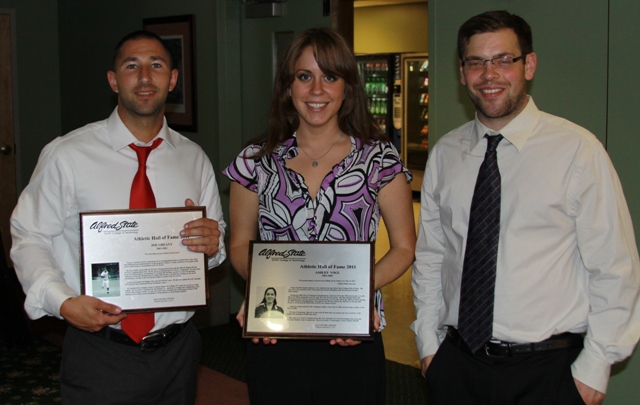 During Homecoming 2011, five Alfred State College athletic alumni were inducted into the athletic department hall of fame. Swimmer John Meade, track & field athlete Damian Rodriguez, lacrosse player Matthew Covert, baseball player Joe Greany, and swimmer Ashley Vogl will join the 56 inducted athletes.
Meade was the cornerstone of the Alfred State College swimming team as the program started a run of four straight NJCAA National Championships. During his two-year career he won six individual national championship titles and was part of four national championship relays.
Meade, a co-captain, was named the ASC Freshman Athlete of the Year in 1971 and the ASC Senior Athlete of the Year in 1972. His strong performance at the 1972 NJCAA National Championships earned him the honor of unanimously being named the most outstanding junior college swimmer.
Meade was the first athlete in NJCAA swimming history to swim to ten National Championships. He graduated from Alfred State with eight school records, six pool records, and seven NJCAA records.
Rodriguez was one of the top pole vaulters in Alfred State track & field history. He became ASC's first NJCAA Indoor Track & Field National Champion in 1998.
Rodriguez was a two-year member of both the indoor and outdoor track & field teams. He was a Region III champion and is currently tied for 2nd all-time in the ASC indoor record book with a vault of 15'1". He also won the outdoor national championship in the pole vault with a height of 14'6.25". Rodriguez and the Pioneers finished 3rd at outdoor nationals in 1998.
For his accomplishments, Rodriguez was named the ASC senior athlete of the year in 1998. Today he still is one of two Pioneer athletes to ever be a national champion during the indoor national championships.
Covert, the first lacrosse player to be inducted into the Alfred State College athletic hall of fame, was one of the programs most electrifying offensive players. During his time wearing the blue & gold, Covert helped put the Pioneers in the national spotlight.
Covert was a two-time All-Region selection and was named NJCAA All-American during his two year career. The All-American honor was the first time a Pioneer lacrosse player was ever honored by the NJCAA.
After scoring 30 goals and passing out 44 assists in his freshman year he put even more impressive numbers together his sophomore year. He recorded 105 points on 38 goals and 67 assists as he led the Pioneers to their first national ranking and an 11-2 mark. Covert is the only person in ASC lacrosse history with more than 100 points in a season and is tops in career points with 179. His 111 assists are tops all-time while his 68 goals are 5th best.
Greany a constant starter for two championship teams at Alfred State is one of the most dedicated and talented players in the program's history. Greany started in every game of his career as the Pioneers accumulated an 82-34 record.
He was a leader on the 2001-02 WNYAC Championship team and the 2002-03 Region III and WNYAC Championship team. He hit .332 as a freshman and hit .423 as a sophomore. For his career he hit .374 (9th all-time), accumulated 377 at bats (8th all-time), scored 125 runs (7th all-time), collected 141 hits (8th all-time) and 12 triples (4th all-time). He also stole 39 bases in his career (7th all-time). Greany is also the all-time leader in assists (154) in a season.
Greany was named All-Region twice and All-WNYAC once. He also was named the ASC baseball MVP and the Most Dedicated Player during his career
Vogl is the first female swimmer to be inducted into the Alfred State College Hall of Fame. She was a two year member of the swim team and earned All-Region and Coaches All-American during both seasons.
During the 2004 NJCAA National Championships, Vogl was 3rd in the 100 breaststroke (1:14.69), 5th in the 200 breaststroke (2:42.51), and 7th in the 50 free (26.62). She then finished 5th in 200 breaststroke (2:35.62), 6th place in 100 breaststroke (1:13.1), and 11th in 100 free (58.61) during the 2005 National Championships. Her times in the 50 free (26.62), the 100 free (57.64), the 100 breast (1:13.10), and the 200 breast (2:35.01) are school records.
Vogl was named both the ASC Freshman Athlete of the Year in 2004 and the Senior Athlete of the Year in 2005.