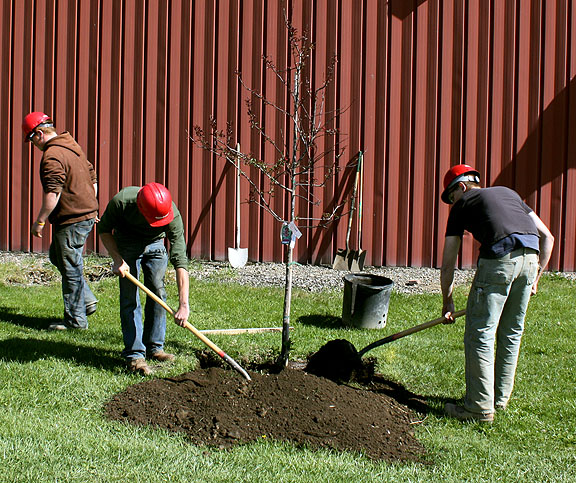 Alfred State College students, faculty, and staff in Wellsville celebrated Earth Day by joining with their neighbors, the Atlantic Richfield (AR) project team, to plant flowers and shrubs around the campus.
The College purchased plants using a $1,000 donation by BP (British Petroleum), which was made on behalf of AR, a BP-affiliated company. BP employees and consultants from the project joined the College in the planting effort.
Project Manager Eric Larson gave a short presentation on the wetland treatment system that has been put in place on the site of a former Sinclair refinery, discussing the decision to select this more natural and sustainable technology for Wellsville.
Larson said, "Our project in Wellsville is an excellent example of environmental stewardship. AR selected a more environmentally friendly and sustainable technology to clean residual groundwater contamination at this former refinery site and protect the Genesee River, an important natural and economic resource for this region. Earth Day gives us an opportunity to showcase our project and continue to give something back to this area's natural environment."
This is the second year the Wellsville team has celebrated Earth Day with the College. Last year, BP also donated $1,000 to the College to pay for trees that were planted by the project team and volunteers from the College.
Learn more about the Wellsville project at its project Web site, ARwellsville.com.