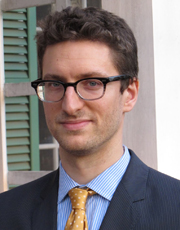 Julian Dautremont-Smith, chief sustainability officer at Alfred State, recently contributed to a book project of Widener Law Distinguished Professor John C. Dernbach that supports the national movement for more sustainable products, practices, lifestyles, and policies. The project is the only nongovernmental effort in the U.S. to comprehensively assess the nation's sustainability activities.
In "Acting As If Tomorrow Matters: Accelerating the Transition to Sustainability," Dernbach advocates for accelerating sustainability efforts in the United States. Dautremont-Smith and 50 other contributing authors, mostly hailing from U.S. universities and law schools, provided input. The book, published by the Environmental Law Institute, is currently available in digital format, and is slated for print by early July.
Dautremont-Smith was one of the collaborators asked about what progress the United States has made over two decades, why it has occurred, what the obstacles are, and how we can accelerate progress and overcome those obstacles. Specifically, he contributed an assessment of higher education's efforts to advance sustainability and identified barriers that are slowing progress.
Dernbach searched for patterns in the answers of all the collaborators. The result is a book that explains how to make sustainable decisions more appealing, how law can facilitate a more effective environment for sustainability, and how both the public and leaders can spur the movement forward. "This is a manual for getting to sustainability, based largely on the knowledge and expertise of the contributing authors," he remarked. This is the third book project Dernbach has led that comprehensively assesses U.S. sustainability activities and makes recommendations for future actions.
Dautremont-Smith is a long-time leader in the campus sustainability field. He co-founded the Association for the Advancement of Sustainability in Higher Education (AASHE) and served as its associate director for five years. While there, he played leadership roles in the creation of the American College & University Presidents' Climate Commitment as well as the Sustainability Tracking, Assessment, & Rating System (STARS). Dautremont-Smith has a Master of Business Administration and a Master of Science in natural resources and the environment from the University of Michigan.