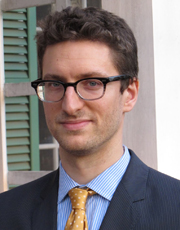 Alfred State is pleased to announce that Julian Dautremont-Smith has joined the campus community as chief sustainability officer at the college. He has served in several related positions, including as associate director for the Association for the Advancement of Sustainability in Higher Education (AASHE).
"I am pleased to welcome Julian Dautremont-Smith to Alfred State," remarked John M. Anderson, president of the college. "Julian brings vast experience in the field of sustainability, and will be an asset to the college, both as a member of President's Council and as a leading professional in sustainability education."
Dautremont-Smith is a 2003 graduate of Lewis & Clark College with a Bachelor of Arts in environmental studies, and received his Master of Business Administration/Master of Science in natural resources and the environment from the University of Michigan in May of this year. He participated in the 2002 United Nations World Summit on Sustainable Development in South Africa as one of 10 Greenpeace youth delegates, and received a J. William Fulbright student grant to work in Barbados, where he assisted the founding of a social enterprise that processes waste vegetable oil into biodiesel. His business plan for the company led to Native Sun NRG receiving a $10,000 second-place prize in the Prime Minister's National innovation Competition.
Dautremont-Smith's work at AASHE included overseeing AASHE's major programs, such as the American College and University Presidents Climate Commitment and the Sustainability Tracking, Assessment and Rating System (STARS). Under his leadership, his team expanded and maintained AASHE's online resource center, including an online tool for reporting campus greenhouse gas emissions. He has also interned with the International Labor Rights Forum, supporting a national standard for sustainable agriculture as well as drafted a white paper on the U.S. compliance with an International Labour Organization convention on child labor. Dautremont-Smith has most recently served with Green Schools National Network, analyzing green school assessment and recognition tools and developing recommendations for the creation of a new national green school rating system.