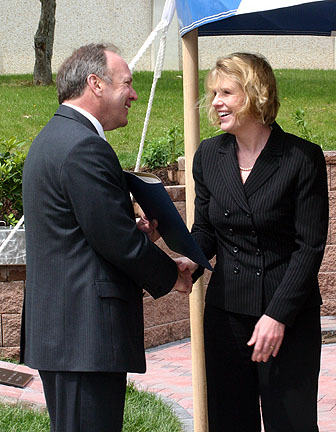 Smiles were the order of the day, Thursday, May 8, when Alfred State College, its faculty, staff, alumni, retirees, students, friends from all walks of life, and SUNY (State University of New York) gathered to celebrate the 100th anniversary of the school's founding.
Remarks were made at the birthday party by Alfred State College President Dr. John M. Anderson who thanked everyone for attending, and extended a special thank you to NYS Sen. Catharine Young (R-Olean) who was instrumental in securing a $4.9 million appropriation for the college farm and its new focus on sustainability as well as $33.5 million in capital funds for the construction of a new student union.  Sen. Young spoke as well, expressing her delight in being in attendance for the celebration and noting that she had had some interesting experiences on campus over the years, including donning welder's safety gear for a "go" at that skill, operating heavy equipment, and having her blood pressure taken by nursing students. Additionally, she presented Anderson with a proclamation from the NYS Senate. 
Anderson also thanked Ben Palmer, ASC class of 1974 for his donation of pavers for the centennial bench location from his business Southern Tier Concrete, Alfred Station, and Hart Memorial, Wellsville, for donating the engraving.
Other speakers included Dr. William D. Rezak, ASC president emeritus; John Hasper, chair, Alfred State College Council; Carl Wiezalis, president, SUNY Faculty Senate; Dustin Fabian,'08, president, ASC Student Senate; Gail Boorman, '69, president, Alfred State College Alumni Association; and a reading of his original poem, "Crossing the Kanakadea," written especially for the college's anniversary, by Joseph G. Flynn, SUNY Distinguished Service Professor emeritus.  The Faculty Men's Quartet provided the music with their renditions of the National Anthem and the Alfred State College Alma Mater.
Additionally, the Centennial Bench was dedicated and a time capsule sealed and placed in an underground vault.  This part of the celebration was followed by birthday cake baked by the culinary arts: baking, production and management students.
Anderson concluded the ceremony with these words:  "As the cornerstone of the first building was being laid 100 years ago, Assemblyman Joseph Phillips commented, '...there is no doubt of the good this school can accomplish in this section of the country.  It will afford great opportunities for young men and women.  Its influence will go on after we who witness this event will have passed on.'
"Now, 100 years later, as we stand here today, I proclaim that there is no doubt of the good this college can accomplish throughout the world. It will afford great opportunities for all who wish to engage in its programs.  Its influence will go on long after we who witness this event today will have passed on."
Other proclamations were presented to Anderson as well:  Sen. Charles Schumer (D) presented one on behalf of the U. S. Senate; Assemblyman Joseph Giglio (R-149), represented by William Heaney, presented a proclamation on behalf of the NYS Assembly; and Congressman John "Randy" Kuhl  (R-29) also sent one on behalf the U. S. House of Representatives.
Guests were invited to tour several academic areas to view students' end-of-the-year projects in a variety of disciplines.
The evening was capped off with a fireworks display at dusk-which was also how the original announcement in 1908 was celebrated!
Established in 1908 as the NYS School of Agriculture at Alfred University when NYS Gov. Charles Evans Hughes signed a bill creating what has evolved into Alfred State College, its mission was to "give practical instruction in agriculture and kindred subjects; to conduct for the improvement of such instruction, investigation, and experiment in agricultural methods in Western New York, and in means and methods for the care and improvement of livestock; to stimulate agricultural pursuits; and to increase knowledge by which such industry may be successfully carried on."  The school opened its doors on Oct. 18, 1909, with four faculty and 46 students. In keeping with its objectives, the school immediately began to focus on efforts to assist farmers of western New York.
By 1936, the school had been renamed the Alfred Agricultural and Technical Institute.  The new director, Paul B. Orvis, a 1921 alumnus of the Ag School, proposed a new curriculum in agricultural business, to include courses in business administration, business correspondence, typewriting, business organization, salesmanship, transportation, and marketing.
In 1941, the legislature changed the name of the school again, and it became the NYS Agricultural and Technical Institute and was known for the next quarter-century as Alfred Ag Tech.
In 1948, the NYS Legislature established the State University of New York, and the Ag Tech became part of the SUNY system, thus separating officially from Alfred University.
In 1965, the College Council approved plans for the vocational program at Wellsville.  Spearheaded by President David H. Huntington, the College Council, the Educational Foundation, and the faculty, the college became the first technical college in SUNY to offer a vocational program. 
The college has grown throughout the years, in infrastructure and in programming, but its trademark "learning-by-doing" methods have been its hallmark of excellence since its inception.